SURTEX is a many-ring circus, the Greatest Show on Earth in the surface design business…three color-filled, action-packed days that turn art and ideas into realities — next year's apparel fashions, home decor, textiles, and myriad other products trace their beginnings to the aisles of the Javits Center, New York.
It's no wonder. Magic happens when you gather 206 of the world's most talented artists and designers under one giant glass roof and surround them with top creatives — manufacturers, retailers, and product designers from around the globe, who converge on SURTEX, looking for original design and exciting art to set their products apart.
This year, they found 85 new exhibitors, many in the Design District, a brand-new section on the SURTEX floor. Also drawn by the exhibitors in Atelier and the other brand-and-licensing exhibitors, attendance was up several percentage points over last year's show, reports SURTEX Show Director Liz Crawford, VP Emerald Expositions.
With so much going on in the show's multiple rings, we asked our photographer to go out and capture the action. Here's her pictorial report.
RACING INTO THE ACTION
Ready & Set To Go Seek, Sign & Buy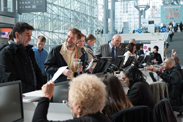 REGISTRATION WENT GLOBAL
Attendance Rose Nicely
EARLY BIRDS BAGGED THE BAG
Designed by DWI for 'First Responders'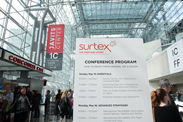 EXPERTISE ON OFFER
Conference:  A 3-Day Virtual MBA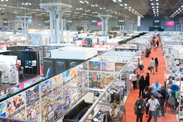 EVERY AISLE, A NEW DISCOVERY
SURTEX, As Seen from the Show Office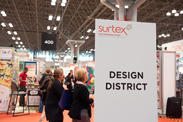 FIRST-TIME FEATURE
Design District: Evoking Beginners' Luck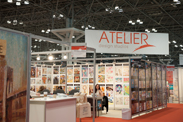 TRENDING TEXTILE DESIGN
Atelier Draws World's Top Studios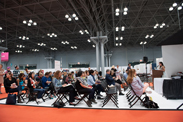 SRO CROWDS AT TREND THEATRE
Key Forecasters Nail the Future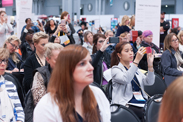 EVERY WORD'S A TAKE-AWAY
Trend Theatre-Goers Snap Up the News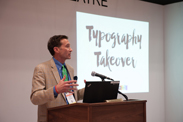 'TYPOGRAPHY IS CRITICAL'
The Word on Words from John Mavrakis of Ideaologie
IN A WORD, THEY GET IT!
Kimberly Shrack (l.), Libby Simmons of Manayunk Calligraphy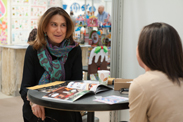 designext JUDGE NANCY FIRE, JUDGING
Student Winners Picked by NY Design Leader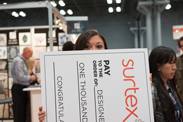 GRAND SLAM for TOP designext WINNER'
Emerald Expo Exec Nikki Puckett Sees Big Things Ahead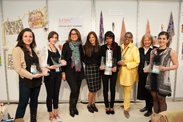 designext LINE-UP: STUDENT WINNERS and JUDGES
(From left): Carolina Perrino, SCAD; Mirta Rotondo, Academy of Art University; ; Nancy Fire, Design Works Intl. (DWI); Stacy Garcia; Grand Prize winner Kera Allen, U of Bolton, UK; Patti Carpenter, carpenter + company; Bonnie Mackay, BMackay Consulting; Anne Tsaprazis, College for Creative Studies.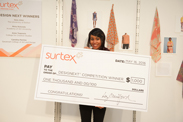 WINNER TAKE ALL (SHE CAN CARRY!)
Kera Allen Took the Grand Prize Home to the UK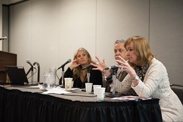 NEED HELP 'MONETIZING YOUR ART'?
Conference Speakers Tell How: (from left) Debbie Taylor Kerman; Debbie Taylor Creative; Larry Hershberger, Art 2 License; Suzanne Cruise, Cruise Creative.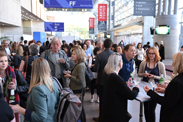 CELEBRATION TIME! COME ON!
Happy Crowd Salutes Happy Hour at the After-Hours Party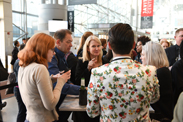 TOASTING SURTEX SUCCESSES
Positive Reviews Raised Spirits…and Glasses!
KNOWN FOR ALL THINGS SPARKLY
Montana Artist Rhonda Addison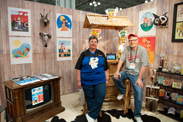 DESIGNED WITH THE GUYS IN MIND
Jenean and David Sustarsic of Belly Acres Farm 'saw a lot of cupcakes and butterflies at SURTEX 2015, but nothing for men.'  Presto! Their 2016 'Man Cave,' complete with pin-ups, a recliner, and Tiki bar they dug out of an Ohio junque shop.
NOW YOU SEE HER, NOW….?
Jenean Morrison Loses Herself in Her Art & Design.