World Art Group is a leading art publisher located in Richmond, Virginia.  Formerly known as Old World Prints, World Art Group publishes a comprehensive line of imagery ranging from very Traditional to highly Contemporary. With weekly releases, covering every subject matter and every price range, they produce over 4,000 images a year. In addition to collaborating with artists from around the world, World Art Group has its own in-house design team Vision Studio.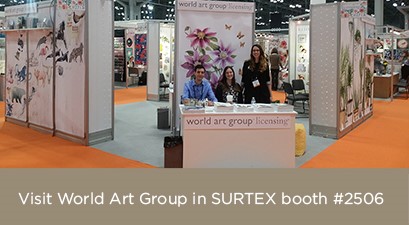 How has SURTEX evolved over the past few years?
With the evolutions in technology, we've seen social media platforms emerge as big talent drivers. As access to e-commerce grows for talented artists, it's incredibly important to remain relevant and to build a reputation as being artist advocates. We pride ourselves on our reputation and being flexible to work with independent designers.
Having exhibited several times, what are some ways to stand out from the crowd and keep it fresh and new each year?
As a generator of trend-forward designs and non-stop art-production, we are a go-to for manufacturers and retailers alike. Differentiating ourselves with creative freedom as our primary value, we've carved out a niche as a one-stop shop for many of our customers.  Representing that with innovative booth design, events, giveaways/swag, photo prop wall/hashtags, along with mixing up our team and bringing different licensing artists allows us to find new ways to merchandise our whole booth.
What advice would you give those who will be exhibiting for the first time this year?
Take it all in: Walk the show as a "customer" and see what booths appeal to you and why. Take plenty of notes on what you see in the moment so you don't forget in a year when it is time to plan again.