How do you p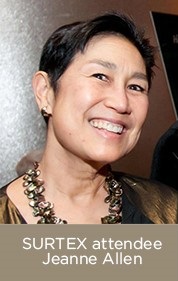 repare for the SURTEX show?
I try to maximize the development of new ideas and products with preparation prior to a show by:
Analyzing and identifying the opportunities in the business.
Researching the market trends using publications in multiple fields and competitive market research.
Identifying customers and how they might respond to the trends.
Identifying the exhibitors that might have a type of artistic style that would translate new concepts and trends to customers.
Do you have any tips for making connections at the show?
Have discussions with as many exhibitors and attendees as your time will permit. What have they experienced during this show compared to other shows? In what types of artistic styles and genres are they seeing the most interest? Where do they see the market trending?
Establishing relationships will lead to networking opportunities for everyone.
What advice would you give those who will be attending for the first time this year?
Unless you are assigned a specific objective, try to get an overview first. What is the message or "point of view" of each exhibitor or artist? How do they conduct business?
You might not be able to work with some exhibitors for a particular project, and this will help you to prioritize.
What's your favorite part of attending SURTEX?
The excitement of meeting, seeing, and learning NEW!!