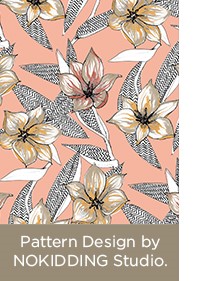 This month's newsletter features the work of NOKIDDING Studio and Nerida Hansen.
Stéphanie is a Paris-based surface pattern designer who founded the NOKIDDING Studio in 2017, after 15 years in the textile industry. She has a love for contrast, strong accents in black and white as well as subtle color ranges, both bold and soft patterns. Naïma is a France-based surface pattern designer. Her colorful, hand-drawn designs are inspired by her love for nature and animals, with a touch of fun​​. Stéphanie and Naïma met at the last "Première Visions Design" in Paris in February. Their complementary styles quickly brought them to join their worlds to offer a greater palette to their customers.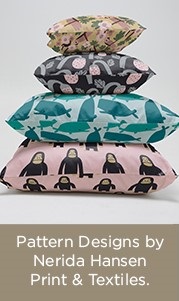 Nerida Hansen Print & Textiles is an International Designs Agency specializing in
contemporary pattern design. Born with a minimalist aesthetic in mind, the Agency
includes art from Sweden, Norway, and Finland, as well as contemporary talent from the
USA, Canada, Spain, France, the UK and Australia.
Nerida's visionary approach involves a focus on trend and color, which recently saw the
launch of her first published Trend Guide, and will be launching the "Trend House" at SURTEX in 2018, which will include hundreds of exciting contemporary patterns ready for sale and license.