Missed the webinar on how to minimize trauma and max traffic to your display space at the Show?  Here's your second chance to tune in on the expertise offered by designer Robin Zietz and Emerald Expositions' Traffic Manager Keith Colavito.
Booth Design:  ROBIN ZIETZ, Robin Z Studio, Lakewood, Co
It's January.  We're into the first portion of booth-planning, the brain-storming, research, obsessing-over-visual-merchandising, art installations, windows, scouring Pinterest, phase of creating your SURTEX booth.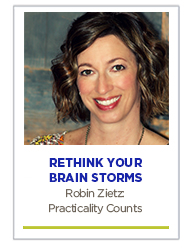 This is the really fun part when you can be free and open to big crazy ideas, strive to be different and stand out from the crowd.  For example, "Wouldn't it be amazing if I could build a 23-foot-tall papier mache cliff and hire a cliff diver to dive into a tiny little pool in the middle of my booth, and have fire dancers, and someone making fresh guacamole, all to launch my new collection "Acapulco!".
Reality Check — Also known as the idea-crusher.  But it doesn't have to be if you think of it as a challenge, instead: How can you get your big amazing idea to fit within the very real parameters of time, budget, safety, regulations, feasibility, and implementation?
To meet that challenge, first lay out your Theme.  Base it on your brand, your industry, color story, new collection(s), your inspiration.
Next, test your theme.  This stage includes digital and physical mock-ups, adjusting scale, refining, and simplifying, testing out rigging (to ensure everything you hang in your booth doesn't fall down overnight).
Repeat your theme:  Instead of the familiar lather, rinse, and repeat, this process is called "decide, embrace, and repeat."  Embrace your theme and repeat it across all items on your list, including,  booth, signage, postcards, business cards, press kits, giveaways, whatever.
Other important points:
Be clear, concise, refined:  Don't try to show everything in your booth;
Make your presentation balanced, eye-pleasing, not chaotic;
Create an environment, lifestyle, branding;
Be unforgettable — plan something unique and memorable as a giveaway that represents your brand;
Focus lighting- adjust your spots;
Focus You! Your smiling face and positive energy are key ingredients in effective booth design.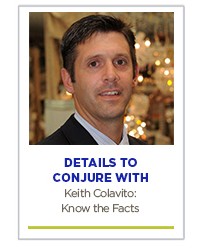 THE NITTY-GRITTY ON BOOTH DETAILS
NUTS & BOLTS: KEITH COLAVITO, Operations Manager, Emerald Expositions: 
Hard facts make booth set-up easier:
Your booth package includes one 5-ft.white formica counter (30 ¾"x60"x30" or 40 ¾" high) with a shelf underneath. You will need to request which counter you want within the set up manual.
Your booth package also includes your choice of three chairs or three stools per 10'x10' booth. You will need to request which counter you want within the set up manual.
A light track with four light fixtures is also included with your booth package.  It only powers the lights.  If you need additional power, order it through javitscenter.com.
Booth vacuuming is provided the morning the show opens, provided cleaners can enter your booth.
Deadline dates apply when ordering Javits services (May 2)
Shuttle bus service is provided to designated hotels within mid-town Manhattan.
The Javits Center work rules have relaxed such that exhibitors can now build booths up to 250 square feet without union labor. For specifics, refer to the Labor Rules and Regulations in the set-up manual.
All exhibitors are required to carry booth insurance. This protection is important. Please read the Insurance Requirements page for details.
An overnight storage room is available free of charge. Rooms are staffed 24 hours a day, from Friday, May 15 to Wednesday, May 20.