All design roads lead to New York this month, where the world's foremost tradeshow devoted to surface art and design unfolds for the 30th time. It's fair to compare SURTEX with Christmas: months in the planning, months of hard work and excitement, with a little anxiety on the side. Now, it's here…and here's a preview of whom you'll meet and what you'll be seeing.
ANA DAVIS, Ana Davis Design, Greater Chicago Area — Author of three children's books and known for her whimsical nursery artwork, Ana has a very grown-up reason for exhibiting at SURTEX: "It's the time of the year when I get face time with my clients…key to developing strong and lasting relationships. Often a range of decision- makers walk SURTEX together, including sales, corporate, and creative teams….I believe it's critical to understand what is important to all facets of a company so that I can provide artwork and programs that will be successful to the company as a whole."
DANIELLE KROLL, Brooklyn, NY — A graduate of Tyler School of Art in Philadelphia, Danielle's career was launched, she says, when she won a series of art classes back in the fifth grade. Today, her studio has collaborated with such prestigious brands as Anthropologie, Land of Nod, Papyrus, Kate Spade, Tattly, Warby Parker, One Kings Lane, and American Greetings.
Never underestimating "the inspiration that can be found during a normal day –from a vintage sewing pattern or a hike in the woods," Danielle is known for her vivid portrayals of everything from a palm frond to a party dress. And for her "whimsical style and playful subject matter (that) aims to bring smiles to grumpy faces everywhere."
DANNIELLE HEINRICHS, Springs Creative Products Group, Rock Hill, SC — New to SURTEX, but already 166 years old, Springs Creative debuts the Baxter Mill Archive, 400,000+ vintage designs dating to the 1850s. Included are fabric swatches, antique books, and hand-painted artworks, now remastered and recreated into new collections "with modern trends and design in mind," reports Dannielle, GroupVP.
Springs Creative's design team has shopped SURTEX in the past, looking for new licensing opportunities and artwork, Dannielle explains. "This year, we're turning the tables, and inviting designers to enter our Baxter Mill Archive vault of designs."
Why now? Dannielle cites a new "crafting culture driven by Millennials and Generation Z via social media platforms like YouTube and Pinterest. They provide users with tutorials and inspiration." Other mediums like Etsy and Instagram allow them to sell and share what they've made, she points out. "The budding meet-up trend encourages people…to get together to develop and share their passions; it's the modern quilting circle."
JEAN BRADBURY, Patchwork Planet, Seattle — She hasn't even made it to her first SURTEX and already, Jean's had a licensing offer from a major calendar company. "Can't wait to see what happens once I am actually there!" says the artist, whose paintings hang in collections in the US, Canada, Britain, Australia, and Jordan (which honored her work teaching art to women in a farming community near the Dead Sea).
Jean's large-scale public paintings, touched with metallic leaf, can be seen across Washington State, as well as in Starbucks, Kuwait, and Starbucks, Taiyuan, China. Still, on the eve of her first SURTEX showing, Jean worries that "my work will not fit in. But perhaps that will be a good thing. My style is my own and expresses my deeply personal view of a gentle world of nature."
JENEAN SUSTARSIC, Belly Acres Farm Studio, Seville, OH — Dave and Jenean's studio is located in their home on a small farm in Northeast Ohio, "where we live with cats, dogs, horses, and donkeys, (and) make stuff…mostly funny things," she reports. "But we have a serious side, too. We've been at this art game for quite a few years
Confirming their relaxed attitude, Jenean promises they'll have a recliner in their SURTEX booth, "so you can put your feet up. We'll have a few laughs, and…maybe we can talk a little bit about art, too!"
JENNIFER NELSON, Jennifer Nelson Artists, Greater Boston Area — Never mind that she may qualify as a SURTEX alumna — she has worked the show for other design firms — SURTEX 2016 marks Jennifer's maiden voyage as an artists agency, and is she excited! "I can't wait! Every year SURTEX is a wonderful event where the whole surface texture industry comes together. I love to rub elbows with artists, art agencies, art directors, and art buyers. And we all share one thing in common: art. The way I see SURTEX, we're all in this together. Our job as artists, agents and art buyers is to create works of art and make the world a more beautiful place."
JEWEL BRANDING & LICENSING, Atlanta, GA –- The global brand management/licensing agency will introduce four artists and designers new to a portfolio that already comprises such notables as The New York Botanical Garden and Antik Batik. Latest "Jewels" at SURTEX 2016 are:
Collier Campbell, two sisters made famous when their designs inspired Yves Saint Laurent's first RTW collection in 1971. Collier Campbell went on to collaborate with other top designers, retailers, and manufacturers, among them, Liberty, Jaeger, and Conran (UK), and Martex, Westpoint, and Springs (US).
Breathless Paper Company, founded in 2008 on wedding invitations and baby announcements by husband-wife team, Matt & Jess Berinato. Now, their "wonderfully witty" paper products run the gamut from greeting cards to home décor, gifts, and tabletop.
Vicky Yorke, known for her "bold and British" design, with cultural influences from around the world. Vicky's whimsical work is often inspired by nature and geometrics.
Angelle, the textile designer whose top-selling prints show up in contemporary fashions found in major department stores, worldwide, and in specialty boutiques under such designer brands such as Trina Turk and Sperry Topsider.
JOCELYN PROUST, Four Corners Art Collective, Coffs Harbor, Australia — She's loved color and design since she was a girl, Jocelyn recalls: " Whenever I visited my grandparents, we passed by the Marimekko store, and I was captivated by the display of bold, graphic patterns. I knew then that I would like to be an artist!" So she studied art at university, and had a successful career in advertising and graphic design before being "recently seduced by the limitless possibilities that pattern design provides."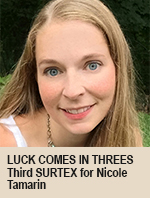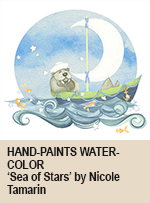 NICOLE TAMARIN, Nicole Tamarin Licensing Illustration, Worcester, MA — Back for her third SURTEX in a row, Nicole brings a string of new licensees, "seven since last year's Show," she reports. Among the companies featuring her hand-painted watercolors are Hoffman California Fabrics, which brought out her second Christmas fabric collection, and Pictura, USA, adding a dozen new greeting cards from Nicole's "Gelato" line, with boxed notes and thank-you cards to follow. She's also expanding her offering of illustrated alphabets, Nicole says, citing a growing "need and ability for personalization."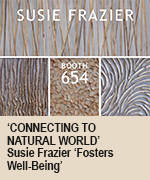 SUSIE FRAZIER, Cleveland, OH — An environmental artist and product designer, Susie believes her work provides "visual connections to the natural world as a means of fostering well-being." Known throughout the Rust Belt for her earth-minded wall features, public art, home accents, and gifts using organic patterns and reclaimed materials, Susie has created products for the likes of Sherwin Williams, Westin Hotel, lululemon athletica, Cleveland Clinic, Hilton Hotels, Uncommon Goods, and Bar Rescue on Spike TV. Her Susie Frazier product lines will launch in Whole Foods this summer.