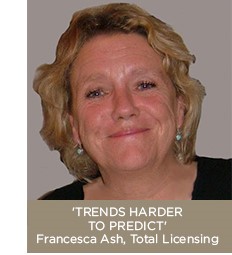 From London:  Francesca Ash, publisher of Total Licensing, industry journal of record, considering international trends:
"We live very much in an unknown state at the moment so it is difficult to predict 'international' trends. The UK has always been bulked together with Europe — although much of the time we have more in common with trends in the US. Now with Brexit on the horizon, and the fact that nobody really understands what that means yet, it is going to make predicting trends yet more difficult….
"Certainly national/regional and local tastes continue to matter. Keeping your national identity is probably (second to immigration) the single biggest reason the UK narrowly voted to come out of Europe…. We live in a changing world — hence your new president. Inevitably this will impact on all forms of business. The problem is working out, with any accuracy, how."
Color You Chill?  "Forget coffee in the lobby and chocolates at turndown," says The New York Times.  What contemporary travelers crave when they hit their hotel: coloring books for grownups. From Morgans Hotel Group to W Hotel, Yotels, and Four Seasons hotels, guests are grabbing crayons and coloring themselves stress-less.  No wonder the publishing business is jumping on the multi-million bandwagon with everything from "The Ruth Bader Ginsburg Coloring Book" to "Release Your Anger: An Adult Coloring Book with 40 Swear words to Color and Relax."
A passing fad? Not according to Publishers Weekly. With adult coloring books nabbing five out of l0 top-seller spots on Amazon's list and Americans spending $128.3 million on colored pencils to relax with, the search is for new art material is waxing hotter and
stronger. Artists, take note.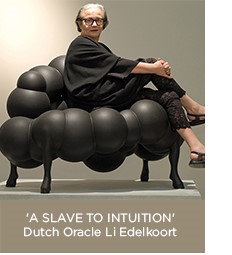 From New York: Dutch oracle Li Edelkoort of Edelkoort Inc., internationally known trends forecasters, musing about her sources of inspiration in a recent issue of Dwell magazine:
"I listen like a slave to intuition.  I train it like an athlete, thank it like an individual, and now I've come to believe that it's not even my intuition — it's the way the human body is linked to a bigger experience and context."
Li herself is now linked to a new experience: after chairing the Netherlands' Design Academy Eindhoven and co-founding the School of Form in Poznan, Poland, she's been named dean of a new Hybrid Design program at the Parsons School of Design