INSIDER TIPS: HOW TO GRAB A LICENSEE'S ATTENTION

Everyone's after them, the manufacturers of bestselling home decor, home fashions, tabletop, and textiles. Agents are always at their doors; artists flood their e-mails with design ideas. Who gets noticed, and how? Four major manufacturers shared the secrets of accessing their attention during an info-dense Conference Session at SURTEX in May.
We were there, listening. Here are some of the choice tips we heard.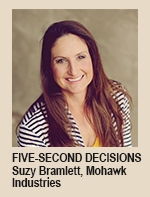 If you want her to look at your art, "Send me curated snapshots," Suzy says. "I can decide in five seconds if your style is going to work for us or not. I'm not going to click on a link, not going to spend 30 minutes finding your art. I need an attachment that can be printed, so I can file and keep (if I think it might work in the future)."Suzy Bramlett, Design Director of Mohawk Industries, $8.1 billion floorcovering manufacturer, founded in 1878 in Calhoun, GA.
"I don't want to see more of what we already have. This business is an educated gamble. We look at sales figures. We take information on what worked before and put a new spin on it. Remember, you are not selling directly to the consumer, you have to get past the buyer — buyers are getting younger and younger and often don't stay long enough to understand their own market." 
Christopher Mooney, VP Marketing/Design, Avanti Linens of Moonachie, NJ, for 40+ years a major manufacturer of towels, rugs, bath and tabletop.
A smart agent curates her artists so there's a "consistent look" to her submissions, Christopher said. "When an agent sends a whole catalog of artists, I glaze over after 30 pieces!"
"The story (the art tells) is what I'm all about. The artist's point of view is huge! Don't send me an e-blast. Make it personal…hand-written, fresh!"
He likes an integrated pattern story, Christopher said, but "Don't create an entire room. Highlight elements I can pull out — stripes, florals, dots… Leave the imagination to me."
Marc Schwartz, CEO, New York, Bob Mackie Design Group, created by the Emmy-winning Hollywood fashion designer and designer of glam home furnishings.
"We are an art-driven brand. We're constantly asking, 'What's next? Where should we be going?'
"Bob may be five years ahead on trends, but our licensing partners know what's selling, what colors work. They have to be safe, but too safe? Who needs it!"
"It's very important for the artist to see the first strike-offs (of a product with his art). But you, the artist, have to be commercially sensitive. Let your baby go a bit. My advice: find a manufacturer who understands and respects you, the artist. Be flexible, but don't let them ruin your work."
Linda O'Donnell, Design Director, Certified International Corp., a leading supplier of ceramic, melamine, glass, and acrylic tabletop. Linda is responsible for all product development, spotting new trends, new designers and new products.
"We are always looking for something new. We trend-spot. We go to the European shows. We manufacturers see things earlier than the retailers."
If you want her to look at your art, Linda says, "Understand the pressures we are under. Always make an appointment (by e-mail). I don't have time to deal with social media, to look at artists' newsletters. I prefer to work directly with the artist (not an agent). I need you to bring it to me!"
"I don't have time to send strike-offs for artists' approval before showing a product to the retailer. We only get one set of samples. You have to trust me. If you're going into licensing, you have to develop a thick skin. My go-to artists are positive and get their work in on time."