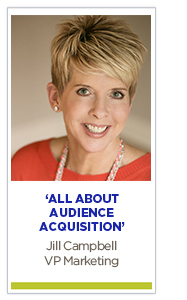 Applying Legal Acumen, Marketing Experience To New, Multi-Pronged Action Plan 
(First in a Series Profiling the Experts Behind the Success of SURTEX 2015)
In the nine short months since she was named to lead the SURTEX Marketing team, VP Jill Campbell has embraced a key tenet for Emerald Expositions and brought a sharp focus to three major goals for SURTEX 2015 (one of four shows now under her direction):
Her motto: "We are all in the audience acquisition business;"
Three means to that objective:  1.  Jill has introduced a process to create strategic marketing "maps" that reach both attendees and exhibitors; 2. The maps produce a collaborative, detailed plan of action to accomplish the overall objective of each event;  3. Further data analysis helps the team achieve a better understanding of attendees and prospects, and develop more effective marketing outreach initiatives, such as direct mail pieces and social media.
Joining the Emerald team in May, 2014, Jill oversees NY NOW, the giant B2B that unfolds at the Javits Center, NY, next week, plus, the National Stationery Show and ICFF (formerly International Contemporary Furniture Fair), which will run concurrently with SURTEX next May.
She brings an impressive background to her new post.  A non-practicing lawyer who took her JD degree at Pace University, NY, after studying communications and psychology at the University of Michigan, Jill has already spent 10 years in the tradeshow industry.  She owned her own marketing communications and public relations consultancy for three years, then served for four+ years as Marketing Director for LexisNexis, the corporation that developed the world's first electronic database for legal and public records.
At LexisNexis, she notched several noteworthy successes: 172 percent growth in social media engagement; a first-ever video contest on Facebook that received national recognition; a testimonial campaign that generated seven times the anticipated responses and led to nearly 20,000 product downloads in a single semester.
Coming back to tradeshows after her LexisNexis experience had its surprises, Jill reports.  Such as how quickly the tradeshow lingo came back to her:  "It's like riding a bike."
To make the "ride" easier for SURTEX exhibitors and attendees, Jill offers other big plans for the future, including a focus on segmented marketing and increasing verification rates during the shows. As Jill points out "There is always room for improvement."
                                — Reporting by Dania Reyes
---
ADVICE FROM THE MARKETING EXPERT:
HOW TO GET THE BEST FROM SURTEX 2015
Jill Campbell shares her three-step plans for your SURTEX success: 
Attention, attendees:
1.  Create a "plan of attack" in advance.  Walk into the show on the first day knowing where you want to start.  Set goals for what you'd like to accomplish each day.  Create a walking map with exhibitor booth numbers.  Consider bringing a colleague or two so you can "divide and conquer" the different areas of the show floor.
2.  Use our new tool, the SURTEX Planner, available to attendees at www.surtex.com in late February.  Using the Planner, you can view the companies, brands, and artists who will be at the show, navigate floor plans and access booth numbers.  Plan to schedule appointments with exhibitors in advance of the show.
3. Dress comfortably. Javits is a large convention center with three shows running simultaneously. Dress in layers and wear your most comfortable walking shoes!
Tips for Exhibitors:
1.   Actively promote your participation in SURTEX in the months and weeks leading up to the event.  Let your customers and prospects know what you'll be doing or showing, and give them your booth number.  Consider offering a show special or other incentive to encourage their attendance and promote it in advance.
Share that information with the SURTEX marketing team, and we'll help to promote your in-booth events and show specials in our many communications, including social media.  Send the information directly to the SURTEX Exhibitor Marketing Manager, Trish Rivas, at trish.rivas@emeraldexpo.com.
2.  You, too, can take advantage of our new tool, the SURTEX Planner, available soon via our website at www.surtex.com.  Watch for a letter announcing that the Planner is live, then log on and complete or create your profile.
This is where attendees will go to learn more about your company, to see any press releases and product images you post, and see how to navigate the floor plan and access booth numbers.  Registered members of the press will have access to this information, as well.
As we also use the Planner to create the Show Directory, don't leave your profile empty or incomplete — you're missing out on a critical opportunity to let attendees know you're at SURTEX.  There's also an appointment-making feature on the Planner to let you accept appointments with attendees.
3.  A final tip that may seem obvious, but it never ceases to amaze me: at every single trade event I've ever attended, I pass many booths, both large and small, where the personnel don't appear welcoming.  They don't smile or acknowledge people walking by.  Or they may be eating, working on iPads or laptops, talking on their cell phones, reading, or otherwise conveying a lack of interest in interacting with show attendees.
Particularly with smaller companies or limited personnel, I realize that sometimes you may need to eat in the booth, but when it comes to getting traffic to visit, it makes a world of difference if you present a smiling, professional, and welcoming appearance.
Finally, be cognizant about the conversations you have on the show floor.  You never know who may overhear your comments and negative conversations turn buyers away.