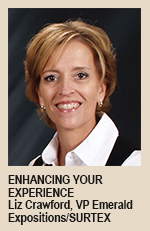 As the Holidays quickly approach, I want to make sure our SURTEX friends are aware of some of the more innovative ways we are enhancing their experience for next May's show. It's very exciting news!
First, we're introducing Matchmaking 101. To be held Sunday afternoon during SURTEX, it's a great opportunity for buyers and artists to mingle and meet with each other in a relaxed setting: Find new buyers…find new art!
Then there's Media Preview, a first-ever event set for Monday afternoon. We're inviting the best-of-the-best in media (both endemic and non endemic) to come learn more about how art is being sourced at SURTEX, and the role it plays in finished goods. Don't miss it!
Plus, a new VIP buyer program…stay tuned!
No other event in the art world brings opportunities like this to our loyal participants. Join us next May!
But meanwhile, the Holidays!