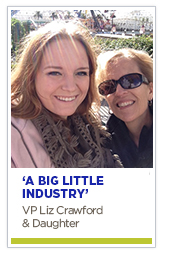 I am constantly amazed how big — and then how small — the licensing world is.  I really can't look at any sort of product without thinking "Licensed Product."
My daughter is always pointing them out to me, too.  We were recently visiting our local Bed, Bath & Beyond and were standing in the bedding department, picking out a nice pattern print bed spread, pillows and sheets for her birthday.  Then, glancing over the other way, we noticed the Frozen-themed bedding and the MLB (Major League Baseball) bed set.
Of course, this particular retailer has an amazing assortment of great products, period (I always seem to spend more than I intend, too).  But their assortment of licensed products is pretty impressive.  Most consumers don't realize the impact of license products.  It's not what one thinks about when shopping… unless, of course, you are in the business.
One of the other trade events I run for Emerald Expositions is our Sports Licensing and Tailgate show, held every January in Las Vegas.  There are more than 350 exhibitors, licensees who want to meet with retailers.
It struck me, as I was walking that show floor and chatting with these companies, just how small this world is.  Those licensees, who represent the best of the best, are perfect candidates for SURTEX.   In fact, a lot of them already do attend the show each May —  everyone I spoke with has a division that covers SURTEX, or they themselves come to the show.
Their feedback:  SURTEX is their primary marketplace for discovering new designs for their products.
Obviously, I know this to be true, and am thrilled with the opportunity to bring more of these licensees to see the great art on display this May.
Small world, indeed!