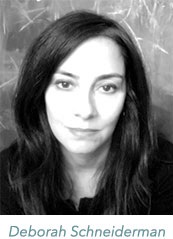 Deborah Schneiderman is a Professor of Interior Design in the School of Design at Pratt Institute. She is also a registered architect and the principal and founder of deSc: architecture/design/research, a Brooklyn based research practice. Schneiderman's scholarship and teaching explore the emerging fabricated interior environment, and her research has been widely published in both commercial as well as academic spaces. Schneiderman holds a BS in Design and Environmental Analysis from Cornell University and a Master of Architecture (MArch) from SCI-Arc.
We had a chance to sit down recently with Deborah and hear some of her thoughts about upcoming trends in the industry:
What is something that really excites you in your work right now? 
In my own work and my work with my students I am excited about considering the performative value of the decorated surface. This can be accomplished through both hand-making and technological intervention. Wallpaper and other decorative surface items might unfold to serve a function and/or they might incorporate digital technologies to both capture and provide energy. I am also interested in the idea that surface design elements can be reusable and relocatable which would allow renters and more mobile individuals to apply, easily remove and relocate designed surface elements.
What surface design trends do you see emerging in the home decor industry?
There certainly has been a surge in the appreciation of wallpaper in the past several years. I find that the trend is for a more functional and performative interior and this includes surface design.