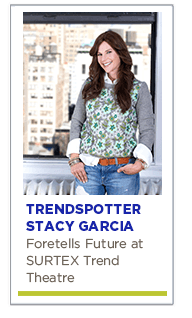 You could say that Stacy Garcia is seeing double when she looks into the future of the surface design industry.
But no blurred vision here, not for the renowned New York designer who has built two thriving fashion businesses since her 26th birthday, LebaTex, a commercial textile supplier named for her great-grandmother, Leba, and her global lifestyle brand, Stacy Garcia.
Looking ahead to coming trends, Stacy clearly sees "a dichotomy," she will tell the SURTEX Trend Theatre audience in her presentation May l9.  By 2016 and 2017, she says, colors will be trending in two distinct and very different directions.
On one hand, there will be a trend to "beautiful, blush-y pastels" that are building on the enduring popularity of neutrals, especially grays.  "Gray will continue," Stacy sees, " but it will be different."
On the other hand, watch out for a trend to more vibrant colors, "tidbits of Neon," she calls them.  "We saw it beginning to happen this at Maison & Objet this year in Paris."
Famed for bold color combos and unexpected designs, Stacy Garcia first scored big  in hospitality design as the only designer to offer a complete design story in the hospitality industry.  Stacy Garcia-branded products can be seen in five-star hotels, resorts, and residences across the world.
In 2004, she spun off the Stacy Garcia design house, producing designs for textiles, carpeting, wallcoverings, furniture, lighting, pillows, and mosaics.  Early this year, she launched "Stacy Garcia New York," her signature luxury residential collection.
So how does she do it, successfully scope out coming trends?   Instinct, yes, but also art and science, talents that can be honed, Stacy says, at places like the Color Marketing Group (she's a Chairholder).  It also didn't hurt that Stacy holds a BFA in Surface Pattern Design from Syracuse University and studied textile design at Central St. Martins in London, then worked for Ralph Lauren's Home Collection and Richloom Contract Fabrics before going on her own.
Stacy's May 19 presentation, "Maximizing Color & Material: The Trends You Need to Know," is one of nine 30-minute trend forecasts available free during SURTEX in the Trend Theatre, located on the show floor.