EXHIBITORS FALL FOR AUTUMN
'… When Fall comes, kicking Summer out… it stays awhile like an old friend…it settles in the way an old friend will settle into your favorite chair and take out his pipe and light it and then fill the afternoon with stories of places he has been and things he has done since last he saw you' –  Stephen King, Salem's Lot
Such a warm and cozy quote — from the master of horror fiction, no less! — set us wondering what stories SURTEX exhibitors can tell about your summers, the things you've done, and what the autumn season means to your business. New inspiration? New markets themed to Halloween and/or Thanksgiving? Renewed focus on nature and the great outdoors?
Never mind the big numbers attached to Halloween sales ($7.4 billion last year, says the National Retail Federation), and the growing demand for Thanksgiving cards and decor. When we asked three exhibitors who are already getting set for SURTEX 2018 what's exciting about this season, the winning answer, hands-down, is autumn itself.
Susan Murphy, VP Licensing, Galaxy of Graphics Licensing, East Rutherford, NJ — "Autumn is what inspires us most! Our artists continually create imagery that reflects the mood of the season.

"With the season fast approaching here in the Northeast, decorating trends incorporate the wonderful rich and warm hues of fall. Wall décor and decorative accessories can easily shape a season-inspired room."
---
Esther Shavon, E'FLOMAE Lifestyle & Interior, Tucson, AZ — "Autumn is a special time here in the Southwest.  The air is filled with a hum of activity as both people and animals migrate here to settle in for the winter…birders come from all over the world…there is a general feel-good vibe during this season…The very essence of the Southwest is to be one with and commune with nature.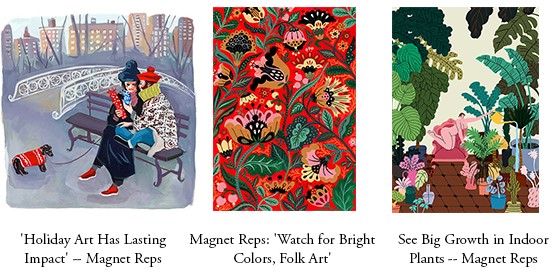 "…My art is directly driven by my interaction with the environment and my experience with nature. Autumn is an important time for me as an artist because (it's when) I do a good portion of fieldwork, research, studying, recording, and analyzing…I take thousands of photos…I also tend to sketch heavily during this season."
---
Barbara Wallace Winter, WinterPrint, Lumberville, PA — Launched in 2015 by Barbara and her sister, photographer Aileen Winter Mostel, both natives of the Deep South, "WinterPrint finds inspiration in nature and commonplace objects year 'round, so truly all seasons are represented. What is a brilliant pink azalea in one pattern becomes another uniquely beautiful pattern when the bloom fades.
"Behind every pattern is a story, a story that is, in part, always about the season….Our ancestral roots and images come from the terrain of the Florida/Georgia border. The seasons are subtle in the South but have a unique splendor. Most WinterPrint patterns are directly from nature.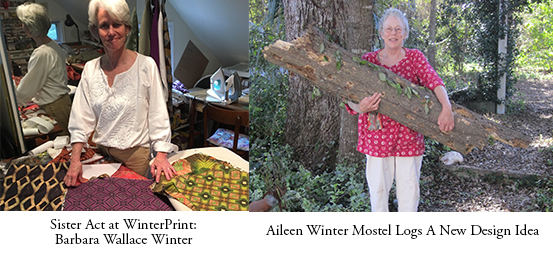 "On daily walks with her dogs across their rolling property, Aileen would make observations and photograph twigs, tree bark, insects, leaves, lichen, flowers and commonplace objects, transforming them into captivating designs…(and) crafting a family business based on a lifelong love of textiles, gardens, and design."