It's about time to update our image of working artists: isolated in an icy garret, struggling to master the traditional tools of their trade — paper and canvas, paint and clay, recalcitrant computers. The instruments used by contemporary artists have definitely changed. How, we wondered, will the new tech affect the art they're making for SURTEX® 2017.
Donna Skupien, Creative Director, Bridgewater + Moss Design, Frisco, CO — "The creative process is strictly driven from my brain….and every morning, it reboots to start a new day."
"In regards to technology over the last 25 years, I have always designed on a Mac…in Illustrator. What has changed is that it is more time-effective to do research via the internet on global design trends.  It is still very time-consuming–and difficult–to stay 'connected' with people [whom I would love to work with]."
Her take on new tech: "Color-changing fabrics have been around for 25 years and are still not very popular [probably due to the cost]…though very cool. 3-D printing is one of the most innovative processes that has come out recently and will bring products to market sooner. Regarding prints, there are several good digital printers that can help aspiring fashion designers print small runs of custom fabrics to help develop their brand."
Annie Moran, Annie Moran Illustration, New Orleans — "I think there's a revival of interest in work that really shows an artist's hand watercolor, gauche, charcoal drawing," as opposed to the digital styles that have been popular over the past decade.
"While nature images are timeless in general, green foliage motifs and tropical themes seem to be making appearances in…applications that wouldn't traditionally utilize tropical imagery. I've also noticed heavy use of bright, expressive color, particularly in jewel tones."
Her take on new tech: "I'm always browsing Instagram, Pinterest, and magazines, taking in beautiful images. However, I don't think too much about trends because I want to keep my work fresh, unique, and authentic to who I am as an artist. What affects my work more is my own environment and personal interests, such as the wildlife of the Gulf Coast."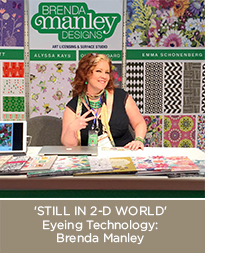 Brenda Manley, Brenda Manley Designs, Fishers, IN
"Advancing technologies have definitely affected the way artists create by giving them more options. Traditional mediums are here to stay, however. I do see tablets becoming quite a common tool. Artists are able to save time by designing digitally [and] ease of portability makes those unexpected bursts of inspiration easier to capture."
Her take on new tech: "I'm not yet beyond the 2D world. However, I have read where 3-D printers are creating objects such as vases or pitchers for artists to hand-paint. Perhaps with advancement of CAD programs and modern technology, we may see a rise in digitized surface designs in the near future."
"Who knows . . . we just might be on the brink of a shift from a Maker's Movement back to a Digital Dominion."