'Tis the season to make your numbers, or so says conventional wisdom in the retail business.  Sales hit some $3 trillion from Black Friday through the after-sales in 2013, and a rising economy foretells even bigger numbers this year.
What does that mean to the surface design business?  What kind of designs keep credit cards hot: Traditional, Nature scenes, religious themes? Jesse Gelsinger shares his observations with On the Surface.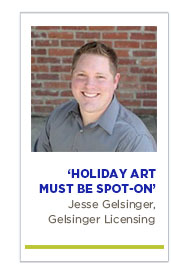 "There is a healthy appetite in the market for traditional Christmas themes in general, but the art has to be spot-on.  Manufacturers know they can post big numbers on perennial Christmas favorites, so long as the designs appeal to the masses.  If the colors, styling or theme fragments the customer base, success will be limited.
"It's a short selling season, with limited time for markdowns.  Ultimately, this means both licensee and retail buyer have less margin for error with seasonal selections.
"Finding the right look is key, accomplished through research, collaboration with clients, hard work, repetition and many years of experience.
We also asked Jesse about new technology, such as 3D printing:
"Way too slow, too expensive, and doesn't lend itself well to surface design, YET.
"The technology is going to improve and one day could be very important to the industry.  If the capability arrives to print a full-color, fully decorated 3D item, quickly and inexpensively, then things will become interesting.
"Home users would be printing all sorts of things, from jewelry to Christmas ornaments, featuring licensed designs.  One of the pain points with online shopping is the wait for delivery.
"Imagine ordering an item online and then your printer makes it right in front of you.  Again, it must be cost effective and fast, but I see the potential way down the road."