They may be new to SURTEX, but not to the world of art and design. The pool of talent flowing into New York next spring is deep, experienced, and out for success.  Five newcomers tell what they want and how they expect to get it.
---
Georgia Perry, Georgia Perry Studio, Fitzroy Victoria, Australia.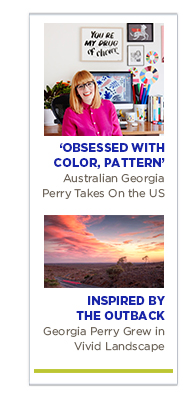 Growing up with artist parents in outback Australia – "where the sky is very blue and the sand is very red" – Georgia says she has always been obsessed with color and pattern, loves "creative problem-solving, and making everyday things more beautiful."
She's spent the past three years as a commercial illustrator, developing what she says is a bold and recognizable style.  But the commercial market in Australia is a lot smaller than in the States, Georgia reports, so she's heading to New York next May.
What does she expect to find at SURTEX?  "I am just going in with an open heart/mind with the focus mainly being on meeting new people and experiencing something completely new!  Color and movement are very important to me, and I'm constantly experimenting with new techniques.
"I find inspiration literally everywhere – from the grocery store to vintage children's books; the seasons and traveling – so many different things are filtered into my work, which always keeps it fresh and new.
"I am so excited to visit New York and to meet some of my design peers and (fingers crossed) maybe even a new client or two!"
---
Ashley Rodriguez Reed, Adjunct Professor, Tyler School of Art, Temple U, Philadelphia.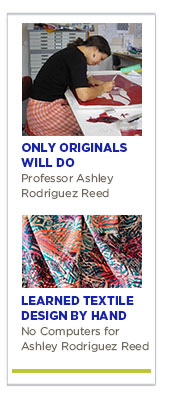 She'd been interested in surface design since she can remember seeing pattern on clothing, Ashley reports, but she was in college (as a fine art major at the U of Nebraska/Omaha) before she ever "realized it was an industry." An MFA later, plus a summer in Copenhagen learning textile design by hand– no computers — and Ashley's career path was set.
"My design work is always from original prints, drawings or photography," she explains.  "I have to make art first and then decide where it fits.  I often imagine my artwork on many different surfaces, which naturally led me to explore art licensing." Which naturally led her to SURTEX 2015.
What does she expect to gain in NY?  "I'm most excited to have conversations, meet fellow artists, and learn!  SURTEX will give me a different kind of exposure that I haven't had and preparing for the show is already teaching me so much.
"In the past, I have sold original art prints, paintings, painted furniture, and clothing.  Now, I would like to see how my artwork might translate on a large-scale to product manufacturing.  I like the idea that my art will be enjoyed in different ways.  I'm hoping that the hand quality will stand out and offer something different."
---
Tatyana Starikova, LaGrange, NY.  Born in Ukraine, earning a degree in Fine Arts and Education, Tatyana brought her career to the US as an in-house artist at Amscan, a gift and party goods company, before moving to a graphic arts studio and beginning a busy freelance career.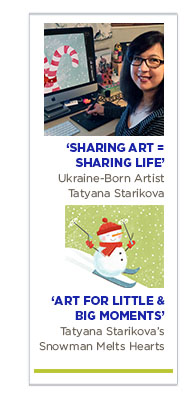 Why exhibit at SURTEX?  "In order to bring my art to the next level and learn more about the art licensing industry, I took Lilla Roger's and Tara Reed's classes during the last couple of years…which brought me to the decision to show at SURTEX.
"Creating art for products is especially rewarding to me, not only because it is beyond exciting to see my designs in stores, but more important, it allows me to share the way I see the world, who I am as a person, and at the same time to be a part of their lives when people buy products with my art and bring them home…
'When I work on a new design, I imagine who might enjoy it – maybe it will be an image on somebody's favorite coffee mug, a pattern on a tablecloth at a family's gathering, or a design on a nurse's scrub that could make a child smile. Thinking about it leads me to many new ideas and gives my art purpose. I believe this is not just art for things, but art for little and big moments of our lives, for memories, expressions of our taste and feelings, and statements of who we are."
You've shown at SURTEX before? "This is my second show, but the first time solo! I've learned a lot about the industry and its demands, received much positive and helpful feedback from manufacturers, and made new supportive and caring friends!"
---
Svetlana Titarenko, Happy Clowns Art Design Studio, Baysville, NY.  An artist-designer with 25 years' experience in fine art and interior design, Lana graduated from the Architectural Academy in Russia with a Master's Degree in Industrial Design and Fine Art. She brought her talents to the US in 1995.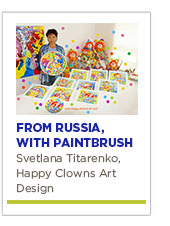 What are your special interests?  Russian classic fine art techniques of watercolors, classic drawing, sculpture, art composition, and 3D design. I just love watercolors for the medium's charm and ability to show form, light, color, and expression of life itself.  I also deeply admire Eco-Design, Art Nouveau (Alphonse Mucha in particular), and old Japanese engravings.
Do you work only by hand? "I freely sketch and paint by hand, but also work on a daily basis with Sketch Up, V Ray and Photoshop. I also like very much to experiment with all kinds of paints, texture & techniques.
All my 2D and 3D designs are registered for copyrights with the Library of Congress, USA. My intention is to license my 2D & 3D designs, but I also will entertain any other business collaborations."
---
Katie Patrick, Kitty Keller Designs, LLC, Sequin, TX.  With a BFA from the U of Texas at Austin, Katie launched her business some 27 years ago hand-painting tee shirts.
Katie Keller Designs has since grown to include custom design t-shirts, custom sterling silver jewelry, and the custom, collegiate, and other cloisonne ornaments for which she's most widely known.
"I'm a very recognizable image and brand in Texas, and I would like to increase my audience in a way I couldn't do if I were just a fine artist," Katie explains. "I'd also like increased brand recognition in Texas…(in fact) I would like to increase this to a world-wide audience.
"I want to become more known as an artist. I want to sell my designs and create new designs so they can be used in many mediums all over the world."
What makes her think she can?  "My art is fresh, alive, joyful, studied…It captures a wide range of subjects. I have been creating two-dimensional art for more than a quarter of a century and it sells all over the world. My art is hand-drawn and painted, giving it a unique texture and dimension. (It's) also very diverse, which makes it unique and interesting."
How did all this start?  "I like to make a mess and get paid for it. As a child I was an artist before I knew what an artist was.  Honestly, I love creating art. It is so exciting to see what you have created being used in different formats, especially on things you had never thought about."