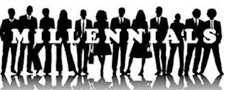 Who's paying attention to the huge youth movement that has just surged onto the demographic charts?
Everyone, that is, anyone who expects to stay in business for the next 20 years or so, as the largest consumer cohort in history flexes its unprecedented buying power.
Some 80-90-million strong, the Millennials will outnumber and upstage the legendary Boomers, whose ranks peaked at 76.4 million.  Born between l980 and 2004, the
Millennial generation's sheer volume is enough to change everything in its path.  But numbers alone don't tell the story, says Jill Sands, founder of The Trend Forecaster, who explored "Millennial Whys?" at the SURTEX 2015 Trend Theater in May.
This is the first generation raised on technology, Jill pointed out.  Trends used to take 10 years to move through the population, she explained.  For example, there were 55 years between the first computer and the mobile phone.
"Today's technology changes in nano-seconds with many different trends occurring simultaneously — think of it as a six-lane Garden State Parkway with the Millennials biking, reading, cooking, playing video games, shopping….all at the same time," Jill said.
Okay, so they are educated — nearly half the generation is a college graduate (l8 percent have advanced degrees) — and they are sophisticated, shaped by technology, most living in urban settings, and concerned with family and community:  What exactly do the Millennials want?  
Simplified lifestyles.  Decluttering has become the IT activity. Clean and functional are their operative adjectives.

Ecological savvy. Forget status symbols. Waste-not-want-not is a key mantra.

Details on what they're buying, like, what's in their food.

Outdoor living year 'round. All seasons, all reasons. Thanks to technology, they can have it, with features like  firepits and heated seats.

Vintage. "Tablecloths are back!" Ditto, layered looks. Expect continued interest in ikats, suzanis, Islamic patterns, Chinoiserie, and Moroccan geometrics  — "a go-to design source," according to The Trend Forecaster. 
How do Millennials shop?      
On their phones. "If I can't buy it on my phone, I won't buy it" is their attitude. That includes major purchases like furniture….although forecasts hold that Millennials are less likely than earlier generations to own their own home.
EDITOR'S NOTE: For more information, check out 15 Economic Facts About Millennials-www.whitehouse.gov/sites/default/files/docs/millennials_report.pdf. To contact The Trend Forecaster, click on www.thetrendforecaster.com.