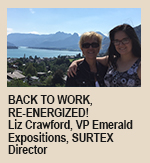 Well, after a nice two-week vacation with my daughter, traveling in Europe, it's good to come home, refresh my thoughts, and, yes, get back to work!
Mother. Teen daughter. Traveling without a referee? I embraced it and so did she! And more important, we lived to tell about it.
So back to work. Putting pencil to paper and working on the plans we have for SURTEX 2016. A long-time exhibitor whom I just saw in NY has made me realize that many of you may not be aware of the immense synergies and opportunities you have at SURTEX, thanks to the show team and the parent company, Emerald Expositions.
Emerald Expositions owns and manages more than 70 trade shows, conferences, and events per year in various markets. While some may think so, we are not the 800-pound gorilla! While we organize large shows, we also act like small companies within our respective markets.
As designers/exhibitors, you need REACH and access. And, frankly, we have that over all the "other guys" in the industry. Here's how we plan to help you reach new customers:
SURTEX database. Comprises thousands of potential buyers for your art, broken out by market segments in home goods; print products, fabrics, etc.;
Licensed merchandise database from other shows we run in sports, apparel, footwear, gifts, outerwear, accessories;
Home design: kitchen, bath and surface designs;
Hospitality design: commercial design for hotels, wall paper, interior design, etc.;
Contemporary furnishings;
Stationery and print products, gift, etc.;
Photography design, wedding suppliers;
Suppliers in sustainable products.
All key categories that will help you reach your goals. All available only through Surtex. We know exhibiting is a big investment. We also know that you expect a viable ROI.
We are ready to bring thee horses to water…but you need to make them drink. We can't do it without you! So when deciding to exhibit at Surtex remember that presentation is everything and showing up is everything. Don't miss it!
Be prepared.
Be patient.
Be creative
Be excited.
Be there!