Conventional wisdom says many retailers count on Christmas to pump in as much as 25 percent of their annual sales. How, we wondered, does this affect the surface design business. So we asked around and here's what we learned from: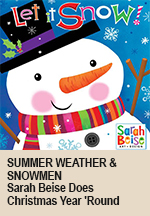 SARAH BEISE, Sarah Beise, LLC, Kansas City, MO: "Merry Christmas – Happy Holidays – Let it Snow and Ho-Ho-Ho! "I could stay busy year round creating designs for the winter months and Holiday season.
"Each year I add to my Christmas collection at least one new Santa, snowman, penguin, and all their friends. After the characters are created, I start designing patterns, icons and lettering to complete the theme of that year. It is always a lot of fun, especially if I have time to create near the holidays, but I usually find myself working on Christmas designs during the warm sunny months."
"The number one product for my images over the last few years has been gift bags! But I have been fortunate to see many of my characters and lettering designs appear on all kinds of fun products! Greeting cards, puzzles, gift wrap, stickers, fabric, gift boxes, cookie tins, treat platters, and even a Winter Children's Activity book."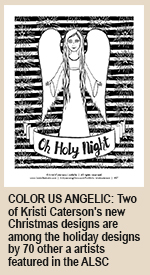 KRISTI CATERSON, Liza Belle Studio, Lithia, FL: "I was super excited (and tremendously terrified!) as I prepared my first SURTEX booth last year. I went with my eyes wide open, excited to meet attendees, share my art with them, and learn as much as I could about the industry and what kind of art people are looking for.
"One of the things that came up many times was the need for Christmas art. So, as I build a strong foundation and strategically plan and prepare for my future in the art licensing biz, Christmas and holiday is a priority for me so I can fulfill the needs of those I create art for."