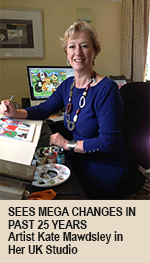 Q. What brought you to SURTEX in the first place, 25 years ago?
A. I got a very generous grant from the UK Department of Trade and Industry. It was intended to encourage more exports from the UK. The grant made the trip almost risk free; at the worst, I'd have a great trip to New York and not do any business. But here I am 25 years later still trading with the US.
I had been in business already for about five years so I was pretty self-sufficient. SURTEX was a slow build; the impact was very gradual. One benefit though was that doing the show spread my customer base more internationally, so if my UK customers were quiet then my US customers would often fill the gap.
Itsy Bitsty Thumb-Sized Bikinis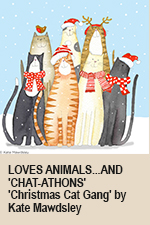 One funny memory from the first or second show: a Brazilian swimwear manufacturer came onto my booth and used his thumbs and index fingers to create a triangular shape he held over each design. It turns out that a Brazilian swimsuit is just three triangles so this is how he could see if the design worked or not. He bought a lot of my designs, and to my amazement, pulled out his wallet and peeled off many $50 bills. I remember clutching my purse to my chest as I walked across Times Square en-route to my hotel and headed straight to the safe deposit box!
Q. How has the show itself changed in the past 25 years?
A. The show grew in size for quite a few years. When I first started it was all held in the Galleria upstairs, then it moved about to various different halls in the Javits Center.
I think business has changed dramatically, too. Early on, customers would commit to designs at the show. Now it's often weeks or months before I am able to work out if it's been a success or not.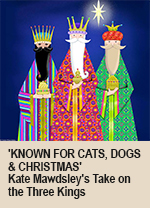 I used to arrive with a portfolio of original paintings (this is long before computer generated designs). I used to sell outright instead of licensing, and would trust people that I had never met before to take away my original painting and send me a cheque in the post. In my 25 years at SURTEX not one company has failed to pay up, so my trust was well placed. Obviously, I now license images and it's all digital files.
Hooray for Technology!
Q. What's the best thing that's happened for you during all these years?
A. Computers and the internet. I used to spend a fortune with Fed-Ex sending original paintings across the Atlantic and they would often get returned folded up or damaged. Now no artwork ever leaves my studio, just digital files sent via FTP sites.
Also, the computer makes creating artwork so much easier and faster. Even if I do traditional pen and ink designs I still scan them in and retouch and manipulate in Photoshop. I also do a lot of artwork in Adobe Illustrator program.
Q. What best advice would you share with newbies at the show?
A. Do not give up the first time. Some people do well from the start, but I found that it grew gradually and I honed my work so that it suited SURTEX customers. When I first started I did mostly apparel designs. Now I'm generally known for cats, dogs and Christmas because I noted what images were most popular. I suppose I have evolved over 25 years.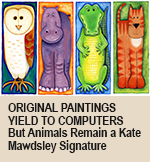 Q. What else should we know about you?
A. Oh dear, that's a tricky question. I love animals, have had both cats and dogs in my life. We currently have a black cat called Rudolph who turned up at our kitchen door last Christmas Eve, hence the name.
I really enjoy meeting customers face-to-face at SURTEX. Much of the rest of my year is spent in my studio on my own so I have a chat-athon at the shows.