Eager to keep up with what's trending in color and materials?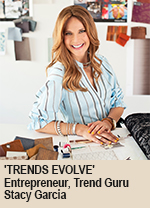 Then color yourself alert to whatever's going on in the world around you, says mega-successful designer/entrepreneur/trend forecaster Stacy Garcia.
"In today's society, technology, politics, the environment, and the economy all spur new trends," she told her audience at the NYNow color forum sponsored by IFDA (International Furnishings & Design Assn.) and Pratt & Lambert last month.
Other influential "drivers" of trends Stacy cited: art, fashion, media, and entertainment.
"At Stacy Garcia (one of two design houses she's built since her 26th birthday, LebaTex and Stacy Garcia, Inc.) our product development process starts with trend forecasting," she said.
"As designers, it is our job to edit these color trends and create an updated color palette for consumers…."
Six Trends Stacy Sees Coming for 2016–
Blush + Plush: Inspired by what she sees as a growing movement to disconnect from technology and unwind, Stacy foresees neutral colors and soft materials that emphasize simplicity, harmony, and nature.
Key colors: Oatmeal. buttery creams, blush, chalky and toasted almond…organic shades that create a timeless, versatile "natural authenticity."
Trending materials: Those that muffle sound, like sand, fur, textiles-on-textiles, sponge, Neoprene, and felt. Braiding, weaving, macrame, and crochet continue to be dominant. Look for chunky knits, feathers, fringe, suede, felts, chiffon, layered surfaces, and cloudy colors.
Gentlemen: With the luxury menswear market outpacing women's wear, Stacy cited "handsome-but-roughed-up" interior decor and an emphasis on thorough craftsmanship and authenticity, for example, building materials openly displayed, adding a raw, unfinished look and furnishings that are as much about function as style.
Key colors: A nostalgic, mid-tone palette with pops of color. Look for neutrals like taupe, camel, and teak, leather, tobacco, and cognac.
Trending materials: Layered textures, tweeds, herringbone, and other menswear-inspired textiles. Look for industrial elements: metal, reclaimed and torched woods, leather, brass, bronze, copper, and brick.
Art-Inspired: "Bright, bold, and flamboyantly playful," this trend appeals to social, gregarious consumers who "play creative director of their total life experience. Its hyper-color and surreal sensibility are popular in new products and art installations.
Trending colors: "Bright, optimistic, unapologetic: hyper-neons, saturated jewel tones:
hot pink, acid green, bright blues, Mars black, titanium.
Trending materials: Painterly techniques: watercdolors, heavy brush strokes, splatters,
lacquered finishes, Matisse-inspired prints, block prints, and color blocking.
Classic Revival: Greco-Roman classicism offers a new direction for Traditional and for luxury, with an educated, high-end, well-traveled appeal.
Trending colors: Black, white, gold, red, and Santorini blue — blue is the color of trust, a stress-reducer in time of economic and social unrest.
Trending materials: Marble, stone, and silk; graphic patterns, like checkerboards and honeycombs, and classics, like the Greek key, urns, columns, and acanthus leaves.
Surfaces: A hyper customization and personalized trend, all about new and futuristic surfaces that create a new blend of architecture and nature.
Trending colors: Less about colors than the surfaces. Look for iridescents.
Trending Materials: Construction is pertinent. Every pixel counts. Expect iridescent, highly polished and reflective surfaces — new interpretations of mirrors.
Urban Nomad: A festival-inspired trend that draws ideas from global influences and nomadic expeditions, and speaks to the untethered, independent, and creative.
Reinvents vintage ideas like wallpaper, wood-paneled walls, record cabinets, and shag rugs.
Trending colors: Indigo and natural dyes, spice tones, jewels against tones of cement and cashmere. Splashy, bold tones that are perfect for clients craving unexpected color.
Trending materials: Pattern-on-pattern overall: henna-inspired patterns, paisleys, ornamental medallions. Suede, leather and tooled leather, fringe, feathers, and wicker.
Editor's Note: For more info on trends, sign up for Stacy Garcia's monthy inspiration journal: stacygarciainc.com, and check out Twitter: @stacygarciainc, and Instagram: @stacygarciainc.