Chosen from entries that flowed in from around the globe, four young artists, representing three nations, have been chosen top winners in the 31st SURTEX student design contest known as designext.
The four winners, who have been invited to New York to exhibit their prize ideas in special booths at the Show, will compete for the $1000 grand designext prize, to be judged by a bold-face panel of experts in the design industry.  The winners are: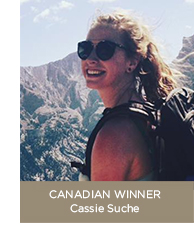 Cassie Suche, Sheridan College, Oakville, Ontario, Canada — Cassie was pursuing a degree in fine arts when she won a trustee merit scholarship to the Rhode Island School of Design, and switched over to graphic design.  An internship in print design took her to Sydney, Australia, for a semester.
Especially interested in using new technology to express abstract ideas, Cassie says she is
eager to learn more about print design for interiors, and about packaging design.  Her professional goal: working with an active-wear brand, designing prints for wearing apparel and other products.
Meredith West, North Carolina State University — A graduate student in the fibers and surface design program in the College of Design at NC State, Meredith is currently researching ways to use digital technologies to replicate the signature markings that distinguish products made by hand.  The markings and traditional motifs associated with Wilmington, her hometown on the Atlantic coast of North Carolina, exert a distinctive influence on her own work, Meredith says.
Her professional objective: a career in surface design that allows her to collaborate with other artists "from concept to realization."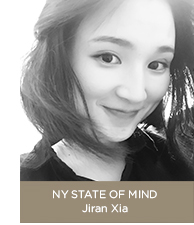 Jiran Xia, Academy of Art University, San Francisco — It's no surprise that Jiran Xia, a native of Jin Jiang, China, came to the US with a rich background in Chinese painting and calligraphy.Now a senior, studying fashion and textile design, she has a very clear idea of what she wants to do after graduation this summer: "I hope to move to New York City and find a position in the design industry!"
Lou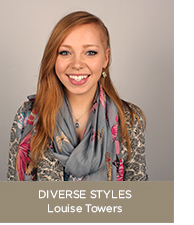 ise Towers, Leeds College of Art, UK — A third-year student at Leeds who has followed her "innate love for drawing and incredible passion for innovative digital craft designing," Louise will take a degree (with Honors) in printed textiles and surface pattern design.  But don't try to pin her down about her work: "My style is constantly evolving (because) I strive to push new techniques and materials.
"My style and abilities are very diverse; therefore, I feel open to designing for a variety of final outcomes," said Louise, who definitely has her eyes set on a career in the surface pattern design industry.