Connect, Explore, and Find Something New
For over thirty years, SURTEX® has been the best place for artists, designers, art agencies, retailers and buyers to connect. The show is an unparalleled platform to find what you're looking for, but also provides an opportunity to uncover wonderfully unexpected treasures you didn't even know you needed. With so many new artists participating this year, the show is shaping up to be a great place to explore the familiar, and find possibilities you've yet to discover.
The 2018 show will also offer many chances to explore a myriad of opportunities, whether it's working with new artists, meeting new or first-time attendees, or growing and evolving your business. The Design District provides an economical space for individual artists who are first-time exhibitors, with bright, fresh ideas and artwork just ready to be shared with the world, while the Atelier section presents trend-forward surface designs to a broad range of manufacturers—interior textiles, fashion fabrics, wall coverings, paper, and more—who are seeking the latest prints, patterns, repeats, and design services for purchase for product development needs.
Seasoned licensors as well as newcomers can take advantage of the Art & Brand Licensing forum. Exhibiting artists, designers, agencies, and brands feature thousands of creative works available for license. That's the beauty of attending SURTEX: There is such a wide array of artists, designers and attendees that you can seek out those you have worked with in the past, but also explore all the new artists and attendees at the show. Take a moment to think about the type of artist or the type of attendee that you would like to connect with at this year's event. Jot these thoughts down so that you can go into this year's show feeling focused.
In addition to all the new designers and artists waiting to connect with buyers, this year's event will feature an inspiring and informative lineup of speakers.
Q&A with Deborah Schneiderman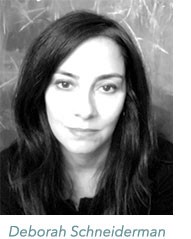 Deborah Schneiderman is a Professor of Interior Design in the School of Design at Pratt Institute. She is also a registered architect and the principal and founder of deSc: architecture/design/research, a Brooklyn based research practice. Schneiderman's scholarship and teaching explore the emerging fabricated interior environment, and her research has been widely published in both commercial as well as academic spaces. Schneiderman holds a BS in Design and Environmental Analysis from Cornell University and a Master of Architecture (MArch) from SCI-Arc.

We had a chance to sit down recently with Deborah and hear some of her thoughts about upcoming trends in the industry:

What is something that really excites you in your work right now?

In my own work and my work with my students I am excited about considering the performative value of the decorated surface. This can be accomplished through both hand-making and technological intervention. Wallpaper and other decorative surface items might unfold to serve a function and/or they might incorporate digital technologies to both capture and provide energy. I am also interested in the idea that surface design elements can be reusable and relocatable which would allow renters and more mobile individuals to apply, easily remove and relocate designed surface elements.

What surface design trends do you see emerging in the home decor industry?

There certainly has been a surge in the appreciation of wallpaper in the past several years. I find that the trend is for a more functional and performative interior and this includes surface design.

What illustrations, prints or patterns do you think buyers should be on the lookout for at SURTEX 2018?

I see the direction of surface design moving more toward texture. I think buyers should be on the lookout for spatial integration into surface design.

Balancing trends with the desires of your customers is so important. What tips do you have for attendees and exhibitors for finding this perfect balance when selecting artwork?

It is always important that the buyer feel a connection with the work and not just believe that it fits with a possibly passing trend. Arguably, good design should have longevity thus creating a more sustainable future.
Exhibitor Advertising Deadline
March is the exhibitor deadline to secure your advertising space in the official print directory. Also be sure to update your profile. Attendees use the Connect™ tool to engage with exhibitors who match their artistic style.
SURTEX is set to take place May 20–22, 2018, at the Jacob K. Javits Convention Center in New York City. Attendee registration is now open. Keep on top of new SURTEX show information by watching this space and connecting with SURTEX on social media.
Featured Artists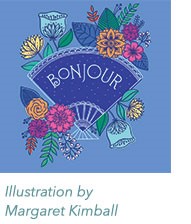 This month's newsletter features the beautiful work of Margaret Kimball. Margaret Kimball is an illustrator and hand-letterer known for her decorative images, lettering, and patterns. She's worked with clients like American Greetings, Macy's, Ogilvy, Aura Cacia, Compendium, and many others to create packaging, stationary, maps, and patterns for textiles. Originally from Connecticut, she now lives in Indianapolis. More of her work can be found at margaretkimball.com.