Let's pretend it's the day after Christmas, time for the excitement to settle and the real world to reappear.  So, we asked a random selection of exhibitors, what's happened — good or not so — in the three months since SURTEX 2015?
Did SURTEX affect your business?  Did you make new connections?  New customers? Did the show inspire you, say, to update your color schemes, design themes, marketing campaign?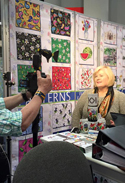 KITTY KELLER,  Kitty Keller Designs, Sequin, TX: "Wow! SURTEX was beyond my expectations. Let me count the ways; meeting other dedicated artists, inspiration, connections, and the potential of working with many very prestigious companies who are interested in my work. Since SURTEX one contract has already been finalized.
"Inspiration is my strong suit and somehow it's never lacking in my world. However, SURTEX was thrilling for me on so many levels and I find myself constantly thinking on the possibilities and the doors that have been opened.
"Thanks go out to the supportive staff who make SURTEX happen. We will be back next year and look forward to meeting many more new artists and companies."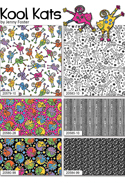 Jenny Foster, Foster Studio, Scottsdale, AZ:
 "Ok.  I've thrown my hat into the ring at SURTEX for four years now.  Going on intuition only as a one-man band, the licensing world has been a scary thing to do.  Been painting
since I was 7 — full-time for 27 years now.
"I have — miraculously — landed several deals! Cards, fabrics, puzzles, decals, animal products and more irons in the fire. Will see.
"I was pleasantly surprised by the different ideas I had from people coming by with product plans I had never thought of. This opportunity is so great, it opens doors you can't imagine. The show was well attended, I had GREAT, helpful neighbors (which is wonderful if you are on your own), and was well worth it. Who knows where it will go next? Can't wait for 2016!"
"SURTEX was a resounding success for Art 2 License. Displaying the work of our artists at SURTEX does not come without a substantial cost. SURTEX customers have expectations from the show and its organizers. We were pleased to see strong attendance and interest from qualified companies. We have signed numerous contracts directly from SURTEX 2015.
"We also met many new industry friends. Sharing knowledge with peers is important as we are all in this together. We really enjoyed the industry party and hope this continues to expand into a great networking event.
"SURTEX continues to lead the way. To walk the show and get an overall feel for all of the artist and vendors gives a broad and powerful look at where the industry is today."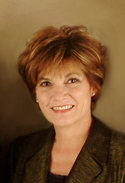 Mary Sher, Bentley Licensing Group, San Ramon, CA: "Thank you for the opportunity to submit a statement for the SURTEX newsletter. I am sorry I don't have the time right now to participate. I am still quite busy following up with all the contacts from the show. I have signed some contracts and (am) hoping for more."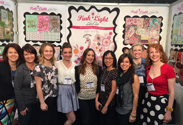 Mary Beth Freet, Pink Light Design, Seattle, WA:  "SURTEX  2015 was an amazing show for Pink Light! We had a chance to meet with all of our valued clients, as well as make connections with new clients. We always have a lot of success at SURTEX,  as it's our biggest show of the year that most of our clients attend…clients that like to license as well as clients that purchase artwork
Our biggest news is that clients that we met with at previous shows are telling us that our artwork is being extremely well received and in many stores for Holiday 2015! Our home decor clients are excited about the success and advise that there is room for continued growth…great to hear!
SURTEX always inspires our team! We love the amazing people we get to meet with! Since our home decor clients have had such great feedback and we know there is room for growth, our team is working on expanding and offering a variety of 'concept' artwork for our clients going forward….in all categories, which will give our artists more flexibility in using their creativity and expressing ideas, rather than only focusing on 'completed' patterns. They are excited and enthusiastic about this new adventure!"