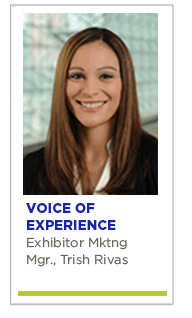 Trish Rivas' position as Exhibitor Marketing Manager may be fairly new, but she  already knows her way around tradeshows well enough to innovate revolutionary new tools — like the SURTEX Planner that debuted in January — and to offer seasoned show-goer advice to newcomers (more about that later).
With a strong business background, Trish came well-armed — a BBA from Pace University and nearly 10 years' experience in retail management — joining the sales team at the company (then GLM) in 2006.  Promoted to sales manager, she worked on NY NOW® (formerly NYIGF) and the National Stationery Show, before transitioning to the marketing team.
"A natural landing place with Emerald," Trish says.  That's due to her "passion and dedication to helping new and established companies connect with new buyers and watching their businesses grow and flourish over time."
Abetting that growth, Trish and her team have implemented the SURTEX Planner, a new digital platform that provides attendees a preview of the market that " promotes the depth and breadth of what our designers have to offer in a way that we haven't presented in the past."
Now exhibitors can create comprehensive online profiles, with descriptions, design images, and product categories," Trish explains.  The Planner also offers access to an interactive floor plan, a matching tool, and on-site appointment scheduler.
It's new, it's free, and it enables buyers and exhibitors to interact before, during, and after the show, she points out.
Now, back to Trish's advice on how to maximize the SURTEX experience:
To Attendees: Now is the best time to login and create your walking lists,view your exhibitor matches in the Planner to create a more efficient show experience, plus schedule appointments with exhibitors to be sure you will connect with designers you want to see.
To Exhibitors: You've invested a lot to be at the show. Always appear ready and available to meet with customers.  Remember, you are here to sell your brand so always appear eager to speak with prospective customers.  If an attendee thinks you're too busy for them or uninterested, they may not make the time to come back to you later.
Always ask for business cards if you're not using lead retrieval, and bring plenty of your own cards to hand out. Have a plan for following up with your leads after the show. And never forget: Follow-up is continuous throughout the year!