The Big Thrill: Showing up and showing art at SURTEX 2015 is now little more than two months away.  Who's coming from where and what will they be bringing?  More newcomers offer previews of the excitement ahead. 
ANDIE HANNA, LLC, Columbus, OH — A professional fashion and surface designer for more than 15 years now, Andie looks back at her childhood and says, "I could say I was a born designer.  I spent countless hours designing clothes and playing dress-up, usually styling my sister with anything from my mom's old clothes to chocolate syrup and sprinkles."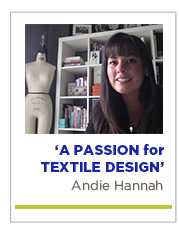 With a degree in Fashion Design at Kent State U, Andie embarked on a 15+year
career designing apparel and accessories…a journey that took her coast-to-coast, working in Los Angeles as a costume designer and wardrobe stylist and in NYC as a design director for such top brands as Disney, Ralph Lauren and Calvin Klein.  In between coasts, she worked for JCPenney, Limited Too, Mossimo Girls at Target, and, most recently as head designer at Thirty-One Gifts.
Q:  With such a resume in fashion apparel, why surface design now?
A:  "Out of necessity, I taught myself textile design and it sort of became a passion.  I entered – and won!  — the 2012 Fabric8 contest hosted by Spoonflower and Robert Kaufman.  The award included a contract with Robert Kaufman (a new collection launches in July).  Winning the contest inspired me to leave my full time job to focus on surface design, freelance work, and being home with my two children."
Q: What inspires you?  Do you keep up with trends?
A:  "Travel, nature and all things vintage.  I really enjoy creating intricate floral and botanical prints…also whimsical children's patterns.
"I do make an effort to keep up with trends…(But) I don't always follow them.  Right now, I'm very influenced by texture and color (and) kind of obsessed with gray and muted color, as well as metallics.  Also, florals and botanicals.
"Trends are a funny thing and surface designs can be so personal.  I created my "Fox and the Houndstooth" collection for Robert Kaufman right before the fox trend exploded….  It sold really well (and) I have a few updates now, including a girl fox and a sailor fox.
"Sometimes you just have to go with your gut.  If you love it, it's likely someone else will, too, regardless of what's trending."
* * * * *
CLOVERLY ART COLLECTIVE, Brooklyn & Irvington, NY, Melbourne, Australia, & London –Spanning three continents, the Collective coalesced in 2014 when award-winning artists Jennifer Orkin Lewis (Irvington), Monika Forsberg (London), Kristen Balouch (Brooklyn) and Lyndy Hants(Melbourn) met in the online art world and decided "to bring their work out into the world together."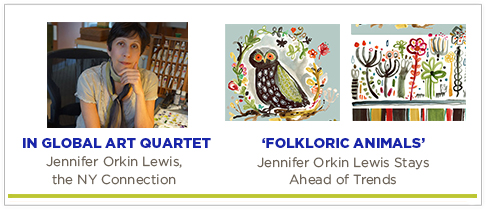 Cloverly (name inspired by a lucky four-leaf clover) offers combined experience across many industries, from textiles to stationery, from large-scale murals to children's book illustrations.  Newest addition to their list of skills: tele-conferencing.  It's taken a lot of that this past year to span several time zones in order to organize their debut at SURTEX 2015.
Organizing this interview, we asked each artist's input on two key questions:
Q: What made you become an artist?
A: "I had an amazing art teacher in high school who helped me realize what it was I wanted to do with my life" — Jennifer Orkin Lewis
"I spent my childhood drawing, making and inventing things and then went to school and slowly stopped being creative until I fell off my bicycle and decided to study photography instead of math" —Monika Forsberg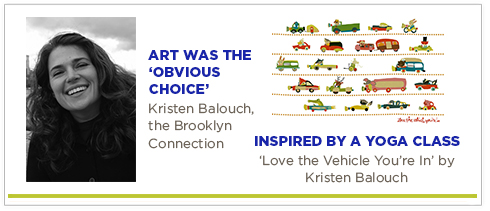 "I knew I'd be an artist when I was a little girl… For me it was the obvious choice.  I moved to Brooklyn at 17 for art school and never left" – Kristen Balouch
"I started out doing a business degree and went to work in a bank, then did a spectacular u-turn and went off to study Art and Design!  I had quickly realized I needed to do something I loved.  I was also really inspired by another freelance illustrator I met around that time, which opened my eyes to the possibility." – Lyndy Hants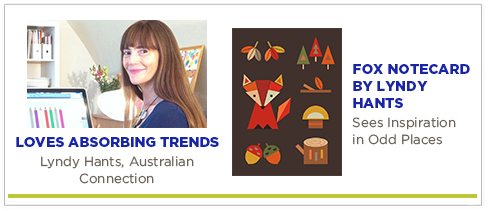 Q: Do current trends influence your art?
A: "I strive to be ahead of trend by doing what I do best…(but) I do look at everything that is happening in fashion, home, color, the world around me, and incorporate the trends that fit my style" – Jennifer Orkin Lewis
"Reading trends really stresses me out, so I don't.  Instead, I draw what I like right this moment…my taste and style go in a zig-zag path: here, there, back and forth" – Monika Forsberg

"I think that just keeping my eyes open keeps me current.  And my interests are always changing.  For example, my work 'Love the Vehicle You're In,' was inspired by a yoga class" – Kristen Balouch
"Being on the watch for current trends and incorporating them into my work is one of the most enjoyable aspects of designing for me.  I love absorbing it all. I buy a lot of home wares mags and shred them to pieces!  Pinterest, Instagram and Interiors blogs are helpful, of course, but I can also get ideas and inspiration from odd places – even just looking at outfits in my kids' schoolyard can spur an idea for a design or color combination! — Lyndy Hants
* * * * *
JOAN CHAMBERLAIN DESIGNS, Dallas — Making art that looks good enough to eat, literally, comes easily to artist, cook, and gardener Joan Chamberlain.  Her fresh colored pencil drawings celebrating the beauty of fresh fruits and vegetables — often enhanced by hand-lettered text and patterned backgrounds – are for "anyone who loves food, entertaining, cooking, and gardening."



Q:  What inspired you to be an artist? 
A: "I have always felt at home with a crayon, pencil, or paintbrush in my hand.  My inspirations were many and varied. As a child, I loved to watch my father's eyes crinkle as he would draw a humorous figure in pen and ink.  We always had art books around, and I would pore over paintings by Michelangelo and Norman Rockwell.  The mastery of color and form continues to fascinate me."
Q:  Has your art changed over time?
A:  "My first love was portraiture, but after buying a home with a neglected garden, I developed a passion for flowers, which launched my career as a published artist under the namePerennial Art.
"Several years ago, I created a product for the home cook and started spending more time in the kitchen.  I love everything about the kitchen – the tools, the techniques, the intense beauty of natural foods.  I find endless inspiration for my art in the kitchen, the garden, and the produce aisle.
"I have worked in oil, acrylic, watercolor, pastel, pen and ink, and colored pencil.  Currently, I find the process of building color, layer by layer, in colored pencil to be very satisfying.  It can be soft and feather-light or rich and saturated. I love that versatility."
Q:  Do you keep up with trends?
A: "Definitely. I follow home decor, advertising, merchandising, color-forecasting, as well as culinary trends. I enjoy figuring out what grabs consumers' attention and developing products that speak to that desire."
* * * * *
JOHN CONROY, COOOL CATS, Los Angeles — Award-winning artist John Conroy earned his BS degree in art from the University of Wisconsin, Madison, and has worked as a graphic artist at a variety of firms, including the Miami Herald, Village Mews, and Camp Beverly Hills.  For 25+ years, he was a touring artist on the Arts & Crafts circuit, and has seen his designs featured by such high-profile companies as Paramount, CBS, ABC, NBC, and Universal Studios (from the 'Bob Newhart Show' to 'Melrose Place"), shown in Seventeen magazine, sold in Dillard's, and licensed on pillows and dog and cat dishes.
Also a member of the American Craft Council, he started his independent design firm in Venice Beach, CA, in the mid 1990s.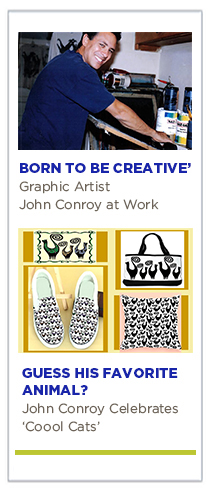 Q:  What and who inspired your career?
A: "I was born to be an artist.  My Mom was an incredible artist, singer and radio personality and my Dad was an accomplished musician who could play six different instruments, so I was surrounded by extreme creativity — I am genetically engineered to be creative and have fun.
"I have been doodling since I was 2 – I'm a perfect example of what happens when you never stop doodling."
Q:  Has your art changed as you have grown in your career? 
A:  "My art and style has actually been the same since I was a child.   I think you are born with certain designing traits that carry on throughout your life. Of course, the digital age has made designing so much more interesting and fun…but I am from the old school.  The need to feel an actual pencil or brush in my hand and to smell the ink, paint and erasures is something I will never give up."
Q:  Obviously, your favorite subject is cats, but do you pay attention to trends? 
A:  "I do love cats (but) I also keep up with current trends, mainly by just living in Los Angeles and being married to an actress who is connected to the entertainment industry and exposes me to events, parties and productions where trends are easily observed.  My young son, also an actor, also exposes me to the youthful music and culture of his generation, so I have the best of both worlds when it comes to observing relevant lifestyles and trends."
* * * * *
MOLLIE PLUMMER, Colorado Springs — Never mind that she's the personification of the cliché that "life is what happens while you are making other plans."  There is nothing clichéd about Master Photographer Mollie Plummer's 25-year career creating "sensitive and soulful" portraits of young children.



After 16 years as a nurse working in surgery, she'd gone back to college, intending to further her medical career, Mollie reports, when she decided to take an art elective, Life Drawing 101.  What happened next has delighted thousands of parents and grandparents across the continent, and still enchants Mollie herself.
Q:  What brought you from the operating room to an easel?
A: "I was struck by the freedom of expressing myself…(and) excited to find that I had a talent for seeing light and form, and (being able to use) charcoal and paper to create images.  I switched my major to art…I have never looked back."  Mollie went on to take both a BA and a Masters Degree in Fine Art, and become a children's portrait artist, working with celebrity clients in Los Angeles and Palm Beach for some 20 years."
Q:  What brings you to SURTEX?
A:  "I'm returning to design to grant myself more liberty to work from my imagination, employing color and pattern to my heart's desire, and, in the process, creating something beautiful for manufacturers to use on their products."
Q:  Why does original art matter in today's world with its tech-driven esthetics?
A:  "Our world is like a pressure cooker…harsh noises, rapid-fire commercialism assault our waking moments.  Warnings and tragedies occupy our daily news. Attention seems focused on the devices in our hands…But then comes a painting or a sculpture or piece of music that begs us to rest our eyes and souls 'within' it….Original design in our living spaces keeps us balanced and in touch with our human 'being.'"
* * * * *
Katrien Soeffers, Katrien Soeffers Prints, Antwerp — After her studies at the Art Academie in Antwerp, Katrien worked for, first, a fashion designer and then in home decoration.  This exposure, she reports, let her to discover "that I could do something with my drawings and painting."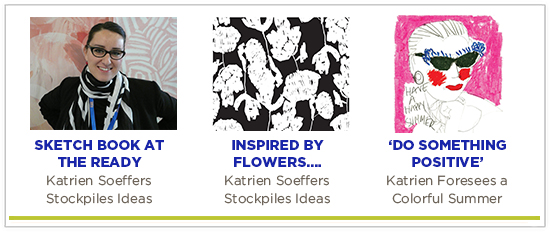 What she has done:  "Inspired by flowers, graphics and colors, I have carefully crafted a primarily hand-drawn and painted collection of patterns and illustrations for fabrics and products in women's wear, kids' clothes and home-deco."  Katrien now works for big and small companies, and for private people, creating custom social products like wedding invitations and birth announcements.
Q:  Do you adjust your art style change to suit the assignment?
A: "My style never changes…I just try to reinvent myself in my own world.  I get ideas from clients when they ask me to do custom made projects.  That is how I discover new ways and new ideas. I also often walk around with small sketchbooks, so when I don't know what to draw, I just open my own sketch library."
Q:  Any advice about following trends?
A: "Be open for new ideas.  Look around and stay true to yourself!  Do something that is individual, positive and reflects 'you' or your brand.  Stand out this way.  Creativity is key…you just have to do it with passion."