East Side…West Side…All around this fabulous town, there's inspiration to be found.  In the stores.  In the streets. Especially in the city's vast wealth of museums, more than 80 of them, filled with art, artifacts, crafts, curiosities…the history of Humankind and its achievements.
Bring a notebook.  Bring your camera.  Be sure to leave time to explore and restock your store of ideas.  Here are just four troves of treasures to be mined in May.
METROPOLITAN MUSEUM OF ART — 1000 Fifth Ave.  
The Mother of art museums will be featuring the colorful, exotic "Sultans of Deccan, India: Opulence and Fantasy, 1500 – 1700."
Also worth the trek up Museum Mile: 
"Fatal Attraction," the jaw-dropping (sometimes delightfully creepy — a skull composed of pale nudes!) photographs of Piotr Uklanski;
"Irises & Roses," four fab late paintings by Van Gogh;
Pierre Hyghe's remake of the Met's roof garden, offering the best-possible view of Central Park (and a wine bar).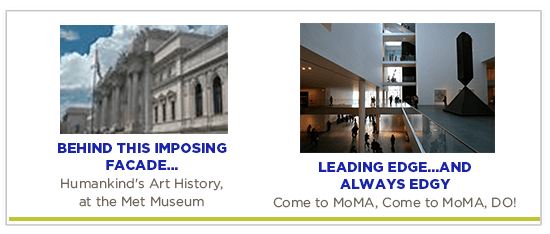 MoMA (Museum of Modern Art) — 11 East 53rd Street
Incubator of all things modern since 1929, MoMA's running a sound and video celebration of Iceland's hottest export, Bjork, singer, songwriter, composer, musician, actress and activist.
Also on exhibit:
"One-Way Ticket:" Jacob Lawrence's famous Migration Series, his poignant documentation of black Americans flowing North from the South early last century.
Andy Warhol: Campbell's Soup Cans and other stuff;
Yoko Ono: Her first-ever solo show, featuring some 125 works.
COOPER-HEWITT/ SMITHSONIAN DESIGN MUSEUM — 2 East 91 Street
Just reopened after a mega-makeover that took three years, the Cooper Hewitt offers cutting-edge design ideas in a l9th-century historic house, the 64-room mansion built by Cornelius Vanderbilt at the turn of the 20th century.
Lucky you to be here for the debut of The Immersion Room, a new interactive space (was Margaret Carnegie's bedroom) that lets you discover Cooper Hewitt's vast collection of wallcoverings as they were intended to be viewed — projected on the wall  and ceiling
You can even make your own designs and try them on, wall-sized.
MAD MUSEUM  (Museum of Art and Design) – 2 Columbus Circle.
MAD is exactly that about all things arts-and-craftsy, from furnishings and fabrics to jewelry (and a totally cool gift shop and restaurant Robert, overlooking Columbus Circle).
Playing in May: 
"Crafts By Pathmakers: Women in Art, Craft & Design, Mid-Century and Today.
Pathmakers, indeed!  See the genius of such famed femmes as Dorothy Liebes, Edith Heath, Eva Zeisel, and Anni Albers.