Not to ruin your Thanksgiving feast, but we're about to update culinary history and unsettle a great American myth: The Pilgrims were late to Thanksgiving dinner.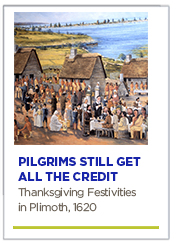 A year or more late!  Some 12 months before they even docked the Mayflower in Massachusetts, the first Thanksgiving had already taken place at Berkeley Plantation down in Virginia.
The date was December 4, 1619, the day Captain John Woodlief and 38 men landed their ship The Margaret at Berkeley Hundred on the James River upstream from Jamestown. Captain Woodlief ordained that the day of arrival "be yearly and perpetually keept holy as a day of thanksgiving to Almighty God."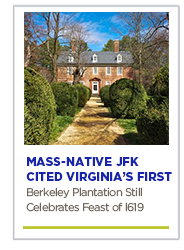 Some 344 years later, in 1963, President Kennedy officially proclaimed Berkeley as the site of the FFV (First Feast in Virginia), and those tradition-loving Virginians now gather every autumn to re-enact the historic party – deer, corn, Indians, and all.
It's all very annoying to citizens of St. Augustine, Florida, who claim that the First Thanksgiving feast was held there on September 8, 1565.  The host was Spanish settler Pedro Menendez de Aviles, who allegedly stepped ashore with a slew of followers and immediately held a mass of thanksgiving.  And, yes, there was also a feast, Indians included, around a table that groaned under such victuals as wine, sea biscuits, and garbanzo beans.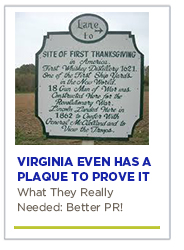 So with all this thanksgiving feasting going on up and down the East Coast, why did the Pilgrims get all the credit?  Historians like Dr. Michael Gannon (aka in Massachusetts as "The Grinch Who Stole Thanksgiving") offer a simple 21st-century answer: they had better PR.