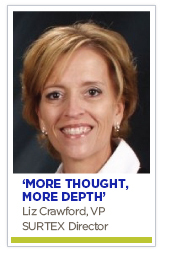 As we enter into this holiday season, I've become more and more aware of how many wonderful designs and patterns are out there to be seen and enjoyed at this time of year.
Overall, it seems to me that the artwork of today reflects more depth and thought — more rich colors, more intricate textures, more sophistication — than I ever realized before I became involved with SURTEX and the surface design industry.
I've always loved the holidays, the season of giving, the time to really soak in the richness of being with people you care about.  Everyone's super busy, of course, but even strangers are smiling at each other as they shop or stroll around town.
Certainly, the holidays give retailers something to smile about.  We Americans spend something like $4.5 billion on Christmas cardsalone.  But the cheer those cards spread is priceless.  That hasn't changed since the very first season's greeting cards went into the English post in 1843.
However, exciting changes are happening in the surface design and art industry, thanks to new technologies such as iPads, iPhones, digital printing and 3D printing.  To think that with the push of a button (well, almost) you can deliver a product that is viable and usable. Pretty cool technology!
Why does that make me think back to my first Easy-Bake Oven?  Pretty cool technology for a young baby boomer, cooking with a light bulb! I can only imagine what other "100-watt" ideas may lie ahead in the New Year….