As we move towards Halloween and the holiday season, I want to share some SURTEX highlights with you. 

I'm so excited for the installment upcoming in May, which is shaping up nicely. We are selling space quickly, and are pacing well ahead of where we were at this same time last year. Two good reasons behind the strong numbers: we introduced tiered pricing for returning exhibitors, and established a new feature, the Design District, to encourage first-timers to take part in the show.

Some SURTEX 2016 stats to date:
Over 120 exhibitors booked
23 NEW exhibitors
66 Licensing exhibitors
25 Atelier exhibitors
Design District exhibitors already set for the new "incubator" section we've just rolled out (read more in UPDATES & UPGRADES, this issue)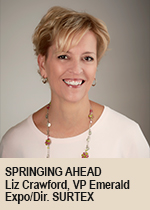 We also expect attendee stats to be robust, based on this year's numbers. In 2015 we saw many attendees that were new to the show or came back after a year off, names like 1-800 Flowers, American Eagle Outfitters, AMSCAN, Belle Maison Textiles, Coldwater Creek, Crane & Co. Papermakers, HarperCollinsPublishers, P/Kaufman, Vistaprint and more.
As we mentioned in last month's issue of On the Surface, we are busy putting marketing plans in place to expand the past attendee base. Exhibitors want to see new buyers, and attendees want to see new exhibitors (in addition to their current customers). We realize this is a critical reason exhibitors and attendees come to the show in the first place.
It's all about "new." So we are renewing our efforts for 2016.
Meanwhile, a big shout out to UK Exhibitor, Kate Mawdsley. This will be the artist's 25th straight year as an exhibitor. Special thanks to your loyalty!
Oh, about Halloween.  Whooooooo's ready?