The presenters brought three different worlds of experience to the SURTEX Conference session in May: Suzy Bramlett, Design Director of Mohawk Industries, John Chester, owner of Wild Apple Graphics, and Tom Mirable, Sr. VP Global Trend and Design for Lifetime Brands, Inc.
But they're all looking for the same thing — good, fresh, salable art. And their 90-minute discussion boiled down to invaluable insider advice for every artist and agent who hopes to sell or license theirs: Make it very easy for potential partners to see and use.
Websites should load instantly. Warns John, "20-30 seconds is too long." And forget passwords. Serious shoppers rarely take time to negotiate them.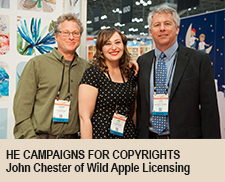 Planning Christmas in May

"The window for looking at new art is brief," says Tom. "We need five months to turn designs into product, so we work a year ahead of the season. For example, May is a good time to look at Christmas art."
Wild Apple Graphics works on what John calls a "rolling schedule. We're always looking at submissions — except during a show."
Suzy operates differently at Mohawk: "Since the whole team decides on art, we need something concrete to show. Send us an e-mail, then a hard copy. And mock-ups are really helpful — not everybody can visualize a finished product."
Hard-copies matter, Suzy explained, "I have cork boards on three sides of my office. Art under consideration is always in my face."
Tom concurred: "I keep good things tacked around where I can see them, so I'm constantly reminded, 'I've got to find a place for that!'"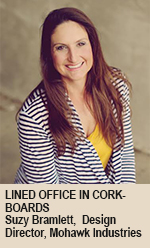 Know What's Trending

All three experts advised, "Stay on top of trends."
"Know what's working, what people are buying," said Tom. "You have to be a culture vulture. Expose yourself to everything. If I have five spare seconds, I'm on Pinterest. I've never seen a 'What's Trending' report that I don't read!"
The trick, he says, is to hit a trend curve at the top. But the biggest mistake is to stop doing a design because you are sick of it. "We may be bored with, say, Moorish patterns and Mid-Century Modern, but the consumer is not."
So the challenge becomes figuring out what you can do to make a tired trend look new. One way: think in categories, Suzy advised. "What's new in coffee? What's new in wine? I get these to-do's from my customers."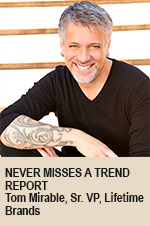 Think Regionally, Too

Another Suzy suggestion: Think regionally. "We are all so global these days, but some things are regional. Tastes differ in places like Puerto Rico, Mexico, the State of Maine. For example, Walmart Canada is much less conservative than the US."
And what about today's buzziest word, branding? Tom's response: "It can be a deterrent to have an artist's name on a product. Ask yourself, 'Am I in this to make money?' Or are you looking to become famous as an artist?"
Suzy weighed in: "A signature doesn't make art sell better. Artist, manufacturer, agent: We are a team. We all want to get the product out there."
Besides, John added, 'Wild Apple always treats artists like rock stars anyway!"
Editor's note: See why we're always urging you to make time for the SURTEX Conference Program? You'll get the straight skinny from top industry insiders who speak from experience. Watch On the Surface for details on the 2016 Conference Program.