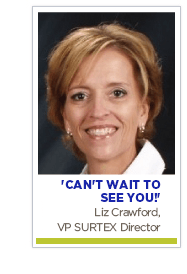 When April comes, can May — and SURTEX — be far behind?  In just over two weeks,  the biggest show in the surface design industry will unfold at the Javits Center in New York.
We're all getting down to the short strokes, getting ready for the show.  Whether those strokes are on the keyboard or the canvas, make them strokes of genius!  Plan now to
take advantage of the important value-add-ons that come with SURTEX:
The Conference Program, three-days of info-intense presentations by experts whose experience and insights will fast-forward your own career;
The Trend Theatre, 30-minute sound-and-sight bites that will let you spring ahead of what's trending — in colors, in style, in attitude — for 2016 and 2017;
designext displays — The four global winners of the SURTEX Student Design Competition offer an inside look at how the next generation sees design, specifically, the popular movement known as "Grunge;"
ReSource Hub — Experience the latest in tools you need to bring design ideas to fruition, from cutting-edge computer programs and publications to amazing innovations in printing techniques;
New York City — It's no accident that SURTEX is held in the epicenter of creativity itself.  While you are here, get out into the action and see what's new and exciting all over town.  See "Only in New York" in this issue for a preview of what's playing next month at the City's mega-museums.
Spring ahead, indeed!  If April is the coolest month, to paraphrase T.S. Eliot, it's because of what comes next — the merry month of May when all the color and excitement of SURTEX finally bursts into bloom. Looking forward to seeing you there!