All around the world, artists, designers, and agents are checking off last-minute lists, packing up artworks, and confirming travel details for New York City, hot spot of new and original surface design ideas.  So, we asked ourselves, why wait for the Javits Center doors to open next month to sneak an early peek at some of the coming excitement?
Vicky Rabinowicz, Lovegrass Studio,  Matawan, NJ (20 minutes from NYC)


An illustrator with a BFA from the Rhode Island School of Design, Vicky's initial success was in publishing, where she created "earthy, textural" free-lance work for such biggies asThe New York Times, Time and Fortune magazines, and publishers like Simon & Schuster, Random House, Condé Nast, and St. Martin's Press. She also took on projects for the likes of IBM and T. Rowe Price, along the way, garnering recognition from American Illustration, Communication Arts, Print, and the Society of Illustrators for her emphasis on craftsmanship and handmade elements.
"My process has always been firmly rooted in the handmade…block printing and cut paper…carved wood," says Vicky, who calls cutting and carving "a meditative process that brings me a sense of peace and joy which I hope to pass on to the viewer."
Q:  We asked Vicky, What's the difference in making art for art's sake and making art you hope to license or sell? 
A: "I'm always focusing on the formal elements of art, such as line, shape, color, and texture… but when I'm creating work specifically to market, I'm also taking into account more commercial aspects, like color trends, themes, and organizing my designs into collections."
Q: What do you hope to get from the SURTEX experience? 
A: "To meet and connect with attendees —  I know for a fact that I'll be seeing loads of amazing artwork from my fellow exhibitors – and to get a better feel for the industry as a whole.  (Also to spend quality time with my three amazing sisters, who have agreed to help me out in my booth!)"
Astrid Davidse, Astrid Davidse Design, The Hague, Netherlands
When she was graduating as a fashion designer from the Royal Art Academy in The Hague, Astrid recalls hearing her work described as "Very creative but too commercial." Twenty successful years later, she can smile and tell the secret of her design studio's success: "I just love making 'ordinary' products look great!"
Now looking forward to her first SURTEX – she has been showing mainly at the European Fairs – Astrid agreed to share the sources of her inspirations and her working process.
Q: Do you follow trends? If so, what's got your interest now?  Or do you stick to your signature style…what is that?
A:  "We're so open to influences, trends are translated automatically. We visit fairs and cities in Europe, absorb e-media, and simply observe everything around us. There is always more inspiration than we can handle…!
"Three or four times a year I make color concepts. With this basis, my nine designers and I create a wide variety of designs — floral, geometric, checks and stripes, panel prints and pattern designs, digital prints, and so on."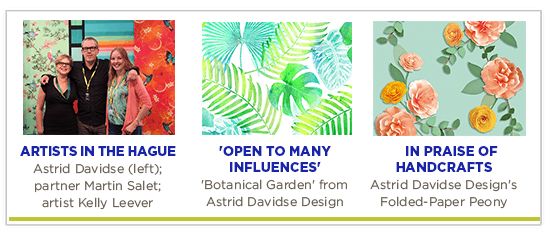 Q: With such variety, does your studio have a specialty?
A:  "In the past we specialized in home textiles, for interior and outdoor. Well-known American retailers and manufacturers (as a policy, we do not mention names) bought our designs when visiting Europe, mostly for bed linen but also for paper products. Some still do, through our internet database."
Q:  So what's new for SURTEX?
A:  "New are our lines for a wide range of products, on offer for licensing (including) handcrafted artwork, like folded paper, painted romantic images, and great drawings for children."
Jennifer Nelson, Jennifer Nelson Artists, Boston
Because she's been involved with art and illustration for decades Jennifer Nelson thinks "It's funny to be considered The New Kid in Town."   What's new is the eponymous agency she launched in January, Jennifer Nelson Artists, representing five talented women artists (four of whom have booths at SURTEX): Bee Brown, Jennifer Orkin Lewis, Lauren Lowen, Monkia Forsberg and Victoria Johnson — "All smart, talented women with varied backgrounds,  each with her very own style."
Q:  So how's it going so far?
A:  "We placed 22 illustrations in the first five weeks!  Victoria Johnson's was the very first project — a design for children's bedding.  It's too soon to name names, but Bee Brown has four pieces that are destined for children's bedroom walls; Jennifer Orkin Lewis illustrated a delightful book for Abrams, 'Sitting in a Bar With Cake;'  Monika Forsberg's designs were grabbed by an Australian company for wall art, and Lauren Lowen is partnering with a national chain for greeting cards."
Q:  How is it different, being an artist's agent after being an art director?
A:  "As an agent, I have a dual clientele — I serve both the companies who buy art and these five illustrators."  Five is enough for the moment, Jennifer concedes.  Although the studio will take on more artists in the future, she "wants to stay focused on keeping these five busy first," most likely in the stationery, book, textile, and decorative home goods industries.
"But we're open to everything." And "everything" is exactly what the agency expects to find in the aisles of SURTEX, she says.