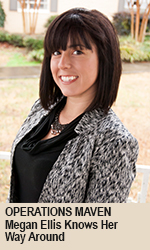 As Ed Sullivan used to say, it's a really big show! The Big League. New York. The sprawling Jacob J. Javits Center, thrumming with hundreds of exhibitors setting up booths….
Intimidating?
Not necessarily, assures Megan Ellis, Emerald Exposition's Operations Manager, who has been working the tradeshow circuit since 2012. Headquartered in Atlanta, Megan supports a wide variety of shows featuring different products, held at exhibit venues across the country. She knows firsthand what you need to know to design, set up, and successfully work a show booth at SURTEX.
Q: We asked Megan: How can an exhibitor design a booth to make the most of its floor space?
A: Plan ahead. Know the exact specs of your booth and feel free to reach out to show management to confirm any specs and discuss design options ahead of time.
Check out the floor plan online, noting any columns or electrical outlets that may be in or near your booth to be sure they don't inhibit your design.
Lighting is key to showcasing your products. You can bring your own or order lighting from the Javits electricians. Be sure to read the labor rules and regulations in the Exhibitor Service Manual (Click Here).
Q: Any secrets on how to expedite move-in, move-out?
A: To ensure that your freight will arrive on time for move-in, ship it to the advance warehouse of the general service contractor supporting the show. You can find this information in the Exhibitor Service Manual.
If you are shipping directly to the show site, be sure you address all freight containers as listed in the shipping section of the Exhibitor Service Manual (Click Here). This will help ensure that your freight is delivered accurately and efficiently to your booth.
Finally, be sure to have all necessary contact info and reference numbers regarding your shipment so you can track whether or not it is arriving as scheduled.
Be sure to clearly label EMPTY stickers and place on each empty box or crate you are storing during the show. This will ensure that the General Service Contractor can get them returned as quickly as possible to expedite your move-out process.
Q: What should an exhibitor know in advance about the Javits Center?
A: Javits has numerous labor unions and complex regulations regarding what work exhibitors themselves may perform. Only employees of exhibiting companies with identification confirming their employment may hand-carry items in on two-wheeled carts. To avoid any fees while you are onsite , consult the Exhibitor Service Manual to make sure you are in compliance.
Q: Any tips on how to make yourself and helpers comfortable during the show?
A: Familiarize yourself with all service desks and the show office when you first arrive. This will make it easier to get anything you or your colleagues need during the show.
Remember, I am here to assist you with any questions or concerns you may have. Some other resources that might make your show run smoother include:
(1) The FedEx Print Center is located next to the concierge desk on Level 3 and has satellite locations throughout the venue for ordering printed material and signage. FedEx also offers private workstation rentals for an hourly or daily fee.
(2) Free 256K-bandwidth wi-fi is available in the Level 1 food court. Additional service must be purchased by the hour or by the day.
(3) There are two Starbucks in the Javits, one in the Crystal Palace and one on level 2 under the Crystal Palace.
(4) A food court will be open on level 1 during show days.