Happy Holidays? Or Holi-Daze?
Warm and fuzzy? Worn-out and frantic? It all depends on how you look at the holiday season that's just now descending upon us. To retailers all across America, it looks green, money green: forecasters say we'll spend close to $68.2 billion on gifts, decorating, and celebrating this year. That's a nearly 4% increase over last year's outlay.
Not everyone warms to such commercial success. Caustic comic Stan Freberg long-ago tagged it "Green Chri$tma$ (his Capitol Records recording, a shocker in 1958, is still spinning on YouTube). Even poet John Andrew Holmes has observed, "The Christmas season has come to mean the period when the public plays Santa Claus to the merchants."
Or has it?
Q: Just how important are the winter holidays to your business? We asked veteran SURTEX exhibitor —
Jennifer Nelson, Jennifer Nelson Artists, Arlington, MA — "We're very fortunate in that we get to enjoy the holiday season all year long," Jennifer insisted.
"My artists are drawing snowmen and snowwomen in July and August!  While the rest of the world is experiencing spring, summer and autumn, we're constantly working on winter images. There probably isn't a day all year when I'm not looking at pictures of elves and Santa Claus.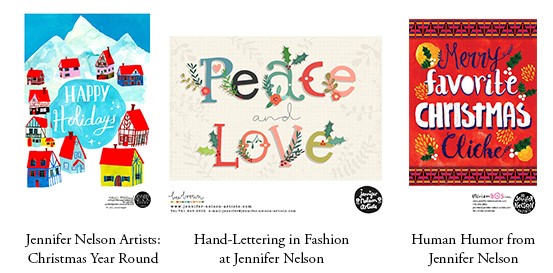 "Of course, the reason is that winter holiday is the most popular category and makes up the majority of our business," she declared.
Q: It could be said that winter is also Jennifer's natural habitat. We asked if real-life nature influences your art?
"Winters in Boston can be rough. We get a lot of snow and there are days when you simply can't get out. But we like to focus on the positive! To us, winter means twinkling stars on decorated trees, joyful celebrations and adorable scenes of foxes, polar bears, and other woodland creatures. We look for the natural beauty in winter. Besides, I don't think our customers would be interested in paintings of snow plows and people digging out their cars!"
 Q: Snowed in or not, Jennifer could still see what's ahead for 2018 when we asked: What's new? What's trending?
"The trend I'm seeing isn't about subject matter: it's about style and technique. Painters are in! Handmade artwork is selling very well now, even more than before. I think it's because there's so much slick, computer-generated imagery out there. Buyers are really responding to the human touch, art that looks like it came from the heart and hands of real people. Hand lettering is in fashion, too. As far as the bi-polar disorder of mixing penguins and Santas, no comment!"
Chrystal Falcioni, Magnet Reps, Los Angeles, CA —

Q: Next, we put the same seasonal question, "How important are holiday themes to your business?" To Chrystal Falcioni, Magnet Reps
"We all know how pivotal holiday artwork is to our industry…our licensees' businesses often shift from red to black during this shopping season. With the volume of holiday images out there, I find artists are often overwhelmed by the idea of creating holiday artwork…they fear their work won't stand out or that everything has 'been done before'. On the contrary, I encourage my artists to dive into holiday art. Each artist's unique rendering style, color palette choices, trend awareness and concepts really do produce innovative, distinct art that pushes the holiday season forward…into newness.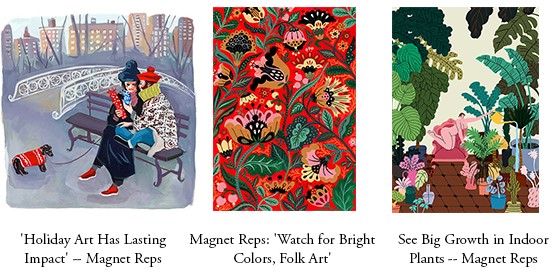 "The art and design in our holidays has a real impact on the memories formed by our children and families. The holiday artwork created today can make an impression that will last for generations…holding a place in the hearts of many."
Q: Another question: What's Trending?
Chrystal's forecast for 2018 is succinct: "Bright colors. Folk art. Indoor plants."
Stefan Jans, Prints of Orange, Milford, CT — describes coming trends in more detail: "We see a continuing trend toward hand-painted designs, both watercolors, and more brushstroke, oil paint-like designs. Floral designs are not always depicting certain flowers but can be more suggestive and abstract. Basically [the trend is to] let the paint/color speak. Also, we see more of a balancing art between leaves and flowers…a pushing of flowers more to the background or being overlapped or intertwined [creating] less traditional designs than when flowers are in the foreground. The colors tend to be more bold then previous years, matching seasonal colors….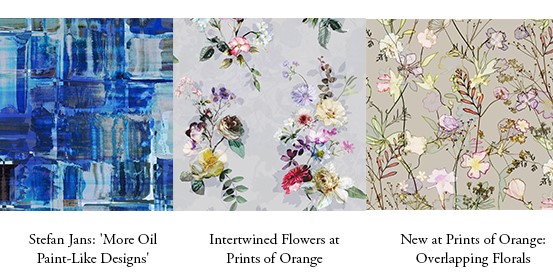 "Non-floral prints are still big. Expressive, painted prints with mixed techniques, combining painting and drawing to give a dramatic effect. Prints of Orange continues to develop new groups," Stefan also pointed out, "We're combining hand-painted prints with digital techniques."