Certainly not savvy retailers, and not just those in the US. In fact, it's downright scary how popular — and how profitable — Halloween has become all over the Western world.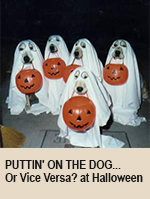 According to the fact-watchers at the National Retail Federation, the world's largest retail trade association, Americans alone will spend some $6.9 billion on Halloween fun this year — cards, candy, costumes, and decorations, including $300 million to dress up their pets.
Other countries are picking up on the fun of what was once considered a quirky American holiday. The English are beginning to favor Halloween over Guy Fawkes Day, commemorating Fawkes' 1605 attempt to kill the King and blow up Parliament. For all its feigned frightfulness, the Brits see Halloween as safer than the bonfires and fireworks that traditionally mark Guy Fawkes Day every Nov. 5
The French, too, are catching on. No wonder, with their storied fondness for fetes and costume parties. And Mexico has always celebrated "El Dia De Los Muertos," the Day of the Dead, for three days, beginning Oct. 31, with sugar skulls and festive altars to honor their dead ancestors.
In the US this year, predictions of holiday spending may fall short of the record high — $8 billion, set in 2012 — but Halloween 2015 still promises to scare up some serious profits for anyone involved in producing products for this, the second-most lucrative holiday after Christmas. That includes everyone from farmers and candy-makers to SURTEX artists and designers.
Consider the stats:
157 million American celebrate the holiday;
$73.34 is the average spend on Halloween goods;
A billion pounds of pumpkins are harvested for holiday use;
35 million pounds of candy corn are consumed (that's 9 billion kernels!);
2,500 "haunted houses" around the world earn close to $300 billion.
Small wonder that, according to BizShift-Trends, "Many major retailers, rather than just spending October ramping up for the more visible Christmas holiday season, now spend significant advertising dollars on goblins, witches, zombies… before turning to Santa and his reindeer.
"Halloween has become a true retail bonanza… Statistically, business opportunities related to Halloween have 'legs'… So don't just look at Halloween as time to buy candy or a chance to party, but more important, view Halloween as a business opportunity that a savvy entrepreneur won't want to overlook…."
We asked some SURTEX "savvy entrepreneurs" how the holiday impacts their business plans. Or doesn't (yet).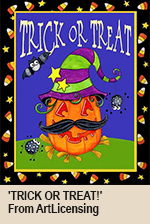 Syrena O'Neil, Sr. Licensing Associate, ArtLicensing, Manchester Center, VT: "Over the last five years, we have certainly seen a growing trend in the celebration of Halloween. This has driven our attention to and focus on the creation of art to capture markets for product licensing. Items ranging from flags, costumes, and tin cans, to LED canvas and puzzles (just to mention a few) are venues that are growing significantly and we see the market continuing to expand.
"This has become a family 'feel good' holiday event. Since this holiday is geared toward all ages, the category has broken outside of the traditional Halloween look and now encompasses all aspects of photography — abstract, typography, whimsical, etc.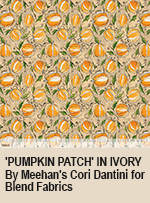 Sheila Meehan, Meehan Design Group, Portland, OR: "Halloween is not a big holiday for my artists…we typically focus on Autumn since it is more broad- based in appeal.
"We do some cards and just introduced fabric, but we cannot sell into a lot of our regular categories, such as wall decor, etc. since the holiday season is short and limited. We concentrate on Christmas for the most part as this is where our licensees ask for collections.
My artists love Halloween and will have a small amount in their portfolio. Cori Dantini had requests from her licensees for Halloween, so she created art for them, like the one licensed to Calypso Cards. Cori also just introduced a line of fabric with Blend Fabrics (blendfabrics.com/gallery/spooky-town).".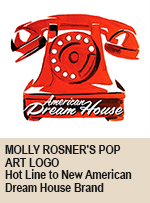 Molly Rosner, American Dream House, LLC, Irvington, NY: "My Pop art brand, American Dream House, is very young so I'm not sure if Halloween is an important holiday for the business. However, Halloween is my favorite holiday and definitely inspires new artwork each year.
As a 23-year-old who is very active on social media, I'm noticing (more than ever) how popular this holiday is in American culture. It seems like the entire month of October is filled with Halloween spirit — spooky porch decor, pumpkins everywhere, haunted houses, costume parties, scary movie marathons, etc. This spirit is so contagious that as a consumer, I'm buying more and more Halloween adornments."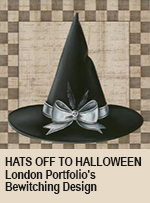 Michael Hernandez, London Portfolio, Morristown, NJ (Michael is the new owner of the 30-year-old studio): "We see Harvest and Thanksgiving as more of a subject for our designs. Harvest themes and things like Fall leaves and gourds have been huge for us for the past two-three years.
"We sell to the mass market, big box stores and giant retailers that use dozens of different designs on hard- and soft goods…. We also have some Halloween themes, but Harvest- Halloween has taken over."