Never mind that she completely missed the whole thing the first time around —
"I wasn't even born then!" 22-year-old Lucy Harris reminded the judges at the 2015 designext Student Competition.
What the English student lacked in personal experience, she made up for by diligently researching the '90s youth culture that spawned "Grunge," the down-market, rumpled
look that inspired the 29th annual international student design competition. The challenge was to come up with a range of six Grunge designs that could be adapted to
products like textiles and wallcoverings.
Lucy's atypical solutions — playful, bold designs in a darker palette — wowed the
prestigious panel of judges, all mega-members of the design industry. They unanimously voted her Grand Prize Winner in this year's competition, so Lucy, a senior at the Winchester School of Art, University of Southampton, went home to the UK with a $1,000 "souvenir" from her first-ever visit to New York.
Other winners, all of whom got to show off their "Grunge" interpretations in their own
booths during SURTEX, were Daniela Ruiz, Universidad Iberoamericana de Puebla, Mexico; Hannah Wilkinson, Leeds College of Art, UK; and Lucas Woolley, New Brunswick College of Craft and design, Fredericton, Canada.
Judges were Nancy Fire, Founder/Creative Director of Design Works International;
Ronnie Gold, VP Design, Home Accent Fabrics; David Laubach, Director of Design, Avanti Press, Inc.; Bryan Parker, VP of Design, CHF Industries, and Diane Piemonte, VP Creative Services, Revman International.
designext at SURTEX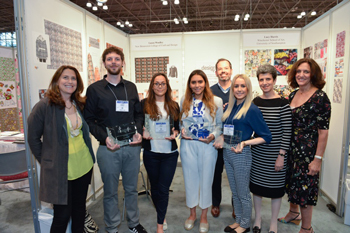 CELEBRATING YOUNG TALENT: designext judges and winners (from left): Nancy Fire, Lucas Woolley, Lucy Harris, Daniela Ruiz, Bryan Parker, Hannah Wilkinson, Diane Piemonte, Ronnie Gold.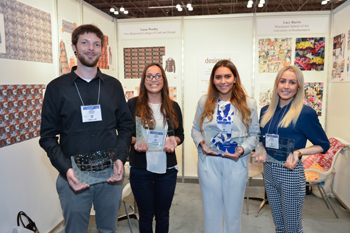 TURNING GRUNGE INTO GOLD, designext Winners (from left): Lucas Woolley, Canada;Lucy Harris, UK; Daniela Ruiz, Mexico; Hannah Wilkinson, UK.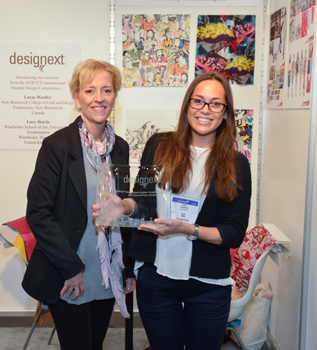 AND THE GRAND PRIZE GOES TO…. Lucy Harris of the Winchester School of Art, University of Southampton. Presenting the Award: SURTEX Manager Liz Crawford.