Ever meet an artist who wasn't inherently interesting? Neither us! The aisles at SURTEX 2015 were teeming with talents and back stories too long untold. How did you become an artist? we asked. What drives your design? Your business? We poked our nose into three designers' booths and here's what we learned.
---
Scott Power, Crewest Studio Gallery Showcase, Los Angeles — "Graffiti" is old-speak. Today, the operative description is "urban contemporary art." The new brand reflects the art's dynamic place in contemporary culture and commerce, Scott explains. For example, he says, Millennials consider it a natural part of their lifestyle.
Liberated from inner-city streets — and championed by the Crewest crowd, including renowned artists like Man One — urban contemporary art is already intriguing commercial enterprises that range from Broadway's hit musical "Rent" to Madison Avenue and the halls of haute apparel fashion…even, potentially, to 35,000 ft., the cruising altitude for jetliners. Virgin Air is considering a new, multi-faceted initiative built around the art, Scott reports.
So is the 80-year-old Santa Anita racetrack, tired and dull and in need of an extreme makeover, perhaps to re-emerge as a huge "shrine to art and sport," Scott says. At SURTEX, The Crewest Studio Gallery Showcase showed urban contemporary art at its dramatic best: the curated installation included live artists at work in real-time". We're here to use art to open minds, raise consciousness, and drive culture," Scott reports. "That's our narrative."
Crewest Studio Gallery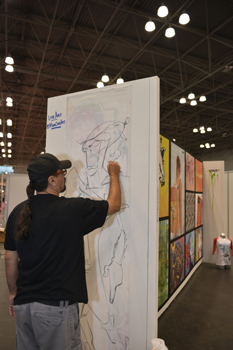 A Work of Contemporary Urban Art in Progress at Crewest Studio Gallery Showcase.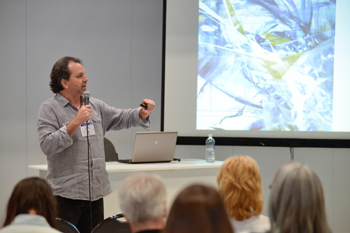 Trend Theatre Presenter, Scott Power of Crewest Studio Gallery
Previewed The News for 2016-17.
---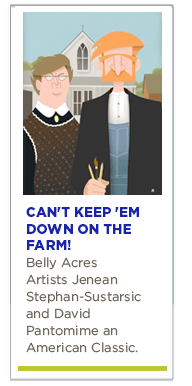 Jenean Stephen-Sustarsic, Belly Acres Farm Studio, Seville, OH — Yes, there really is a farm, some seven acres that house two donkeys, a horse, and the Belly Acres Studio where Jenean and husband David turn out "farm-fresh art," including hand-sewn toys and dimensional mini-scenes like the New York Harbor/ Statue of Liberty rendered in fabric.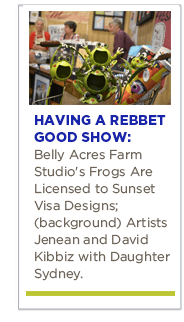 Their SURTEX booth looked farm-fresh, too, with Jenean and David dressed in overalls and gingham to update the famed "American Gothic" couple. But there was no disguising the city-sharp smarts behind this couple's art. Both had spent some 36 years at
American Greetings — Jenean, "The Conceptor," as a director of such milestone licenses as Strawberry Shortcake, and David, "The Colorist," as an artist at the iconic firm.
Then, two years ago, came the lay-offs. "Things can change on a dime," Jenean reminds. "We panicked a little." But the proverbial new window opened and Belly Acres Farm Studio was born…some thanks to SURTEX. "We came last year and I saw that I was not too old. Not old at all," Jean smiles. "That's what SURTEX did for me!"
And there's more to come, Jenean reports: "We did have a successful show. We sold a few pieces right at the show, and I have already been in direct contact with four new clients, preparing projects for all of them."
---
Charlotte Miller Russell, Creativity Explored, San Francisco — It's art for the artists' sake at this 32-year-old studio and gallery. The artists may be people with developmental disabilities, but you can diss the dis: there's also a surprising ability to create remarkably original works of art.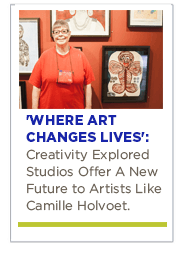 The mission of Creativity Explored goes even further: " We provide artists with developmental disabilities the means to create, exhibit, and sell their art in our studios and gallery, and around the world," Charlotte explains.
Which is why the gallery had come to SURTEX 2015, to show off the work of some of the 75 or so artists of all ages who spend their days painting, drawing, weaving, and creating with an eye toward a profitable personal future.
As Charlotte points out, "A key focus of Creativity Explored's services is to support those individuals with developmental disabilities who wish to become self-employed artists in creating and operating fully viable and profitable businesses."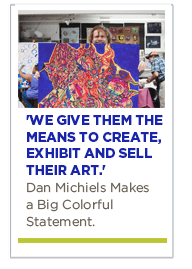 So we're not talking "outsider art" here. Voted Best Art Gallery in the Bay Area, the studio sponsors six exhibitions a year, including many abroad. There's a popular on-site gallery and a thriving on-line business. Previous licensing partners have included the likes of Comme des Garcons, a leading-edge fashion house, and CB2, known for pillows and rugs.
Charlotte has the last word: "Licensing gives life to the art…And licensing integrates artists into the community."