What's that sound we hear? The flurry of artists and agents packing up all over the world…The clicking of keyboards as art buyers and licensees, manufacturers, and retailers double-check their most-wanted lists before heading to the Greatest Show on Earth for anyone involved in the business of surface art and design.
In just a few days, SURTEX® opens for its 31st run in hustling, bustling, and exciting New York City, aka Manhattan, Gotham, the Big Apple.  By any name, it's the exactly right venue for a B2B show totally devoted to Art.  Not only is New York the Art Capital of the World, it's the beating heart of innovation, energy, and inspiration everywhere you look.  In the stores, on the streets, and in the museums, New York offers a variety of riches:  hundreds of museums devoted to everything from children and American Indians to Jewish culture and skyscrapers, medieval Europe and contemporary works so fresh the paint may still be drying!
So many options, so little time! So we cornered a couple of SURTEX veterans and asked a few pre-show questions: how they relate to New York, where they go for inspirations, and what trends they see on the horizon for 2018.
Nancy Fire, Design Works International, New York — Nancy has not only been a SURTEX exhibitor "since the beginning," she has served as a judge in the designext®student competition, chaired the "Design a Seat" campaign several shows ago, and been an expert presenter at both SURTEX seminars and the Trend Theatre. She's also a New Yorker, who calls the City "Our heartbeat of style. We attract amazing talent, both in studio and freelance because of our location here. We are lucky to have this amazing City as our backyard."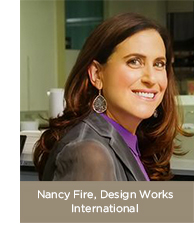 Always inspired by NYC, Nancy says, her studio's work is "partial to the NYC energy: inspired by walking down the street, (by) heading to a museum, checking out a new cafe or pop-up store that has a current art vibe!"
As a celebrated forecaster of design trends, what does she foresee for 2018?  "Many fun and updated images, many related  to the Millennial lifestyle."  More, she's not telling until SURTEX:  "Come to my trend talk at SURTEX," Nancy urges. She addresses "Color, Chaos and Creativity" at 2:30 Sunday afternoon, May 21 at Trend Theatre.
—
Lonnie Lemco, World Art Group, Richmond, VA — Another long-time SURTEX supporter — "We've been attending and exhibiting at SURTEX for more than 10 years" — World Art Group is also sold on New York as the right exciting venue for the show.  "New York is great …Love the city (even if it can be expensive)," he says.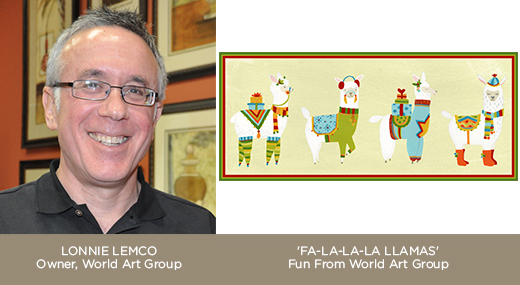 With more than a decade's worth of SURTEX experience, what, we asked, is the most significant development in trends you've observed during that time?  "The largest business shift we've seen is a much higher turnover in art from quarter to quarter. It requires us to increase our output significantly. The largest and longest-standing trend we've seen in the last 10 years is typography and hand-lettering."
And what do you see trending in 2018 and beyond?  "We feel that tropical and plants will continue to stay strong in 2018.  Millennial-driven art is always front of mind.