Trend Forecasters Look Ahead to 2018 Colors, Ideas, Attitudes
No wetted finger in the wind for these professional trend analysts. Too much depends on their forecasts. Manufacturers plan future products according to annual experts' reports. Retailers place orders and set marketing programs, guided by the forecasters' advice on colors, textures, materials, the state of consumers' minds.
So where do these prognosticators get their information? They watch — with educated eyes — what's happening all around them, all around the world. In politics, in the theaters, especially in peoples' attitudes. Which is why the Trend Theatre at SURTEX 2017 drew crowds of note-takers and iPad wielders, mining every one of the nine, half-hour presentations for clues on how to run their own businesses better in the coming year.
Some highlights from the "flash" reports, covering topics from home and accessories,
to tabletop, textiles, and fashion to paper, packaging, and gifts:
Laurie Pressman, VP, Pantone Color Institute: "Time is the major operative in our lives today. It defines what we're doing, planning, feeling. We speak of real time, spare time, downtime. Time is money. Time is the ultimate luxury.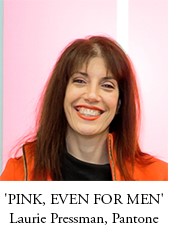 "We live in the age of 24-hour emails, of a 24/marketplace. And it's taking its toll on us." Our reaction: we crave silence, calm, and serenity. Less is more. So make good use of typography, Laurie told the artists in the crowd. "Make your message short and sweet, clear, and crisp."
Other guidelines for communicating across the "generational divide:" Millennials expect social responsibility in what they buy. "They're shifting from 'Me' to "We,'" Laurie pointed out. "The younger generation thinks the environment is cool." Her advice:
Design out waste. Focus on repurposing. Think green, as in Pantone's "Greenery," the 2017 Color of the Year.
Also in the coming palette Laurie presented for 2018: Grenadine, a classic red ("second to black, the most powerful shade"); Pink, even for men (a softer pink she calls "Ballet Slipper"); Dark blue ("takes some of the load off black"); Dark purple ("a futuristic shade"); Colored grays; Beiges ("not a fall-back shade anymore"); Lavender ("a quirky new 'normality'"); and coming on strong again for 2019: Turquoise.
Nancy Fire, Creative Director, Design Works International and HGTV HOME: She foresees jewel tones and crystals — "It's about spirituality. Millennials love crystals. In the home, even in bottled water — they're drinking water with their favorite gems in it."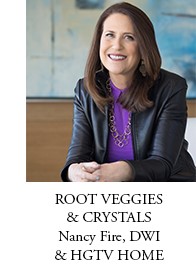 Expect to encounter "black magic," too — " We believe it is a spiritual color." Expect iridescence and shimmer, substrates with metallics added in. Nancy also predicts plenty of pink: "Millennial pink," she calls it. "Pink is here to stay." But by 2018, Nancy sees pink will be transitioning to purple.
Already trending: a fondness for colorful contrasts and patterns that deliberately "Mix & Crash." Also, a lifestyle that is "of the earth. Citrus colors. Farm-fresh colors, root vegetable designs — hard to sell years ago, now they're in demand, vegetables like turnips and carrots."
Also on the horizon, according to Nancy: marble patterns and strié; dark purples; "lush leaves and jungle florals on everything from wallpaper to shoes." Anothertrend is what she calls "Freehand: inky illustrations, black-and-white line-work, even for the nursery." Finally, look out for seafoam green, Nancy predicts: "It's coming back and coming on strong!"
Abigail Cook, Senior Trend Analyst, Doneger Creative Services: What she foresees on the homefront in 2018: Interiors that offer respite from the "noisy digital world" we're living in today. "People are going off into the woods to get away," Abbey reports. She means that both literally and figuratively: expect to see more actual nature in the home (simple Shaker-influenced wood furniture; tabletops supported on real, big rocks); even tree houses for adults!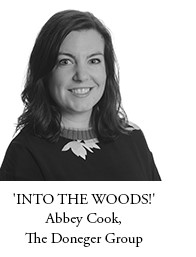 Supporting the back-to-nature movement, Abbey predicts a surge of woodgrains and woodgrain patterns everywhere (including wallpapers); animal prints, feathers, and shells; camouflage patterns, and wildflowers — "All quiet and gentle." Plus generous helpings of natural indigo blue. Textiles will go plush — think furs — and "home-spun-y" and handmades– think knitwear.
At the same time, Abbey foresees what she calls "Cultural Clash," an infusion of disparate materials and a "lot of colors coming together…with a bit of a digital component." That's thanks, she said, to the influence of social media on everyone's life today.