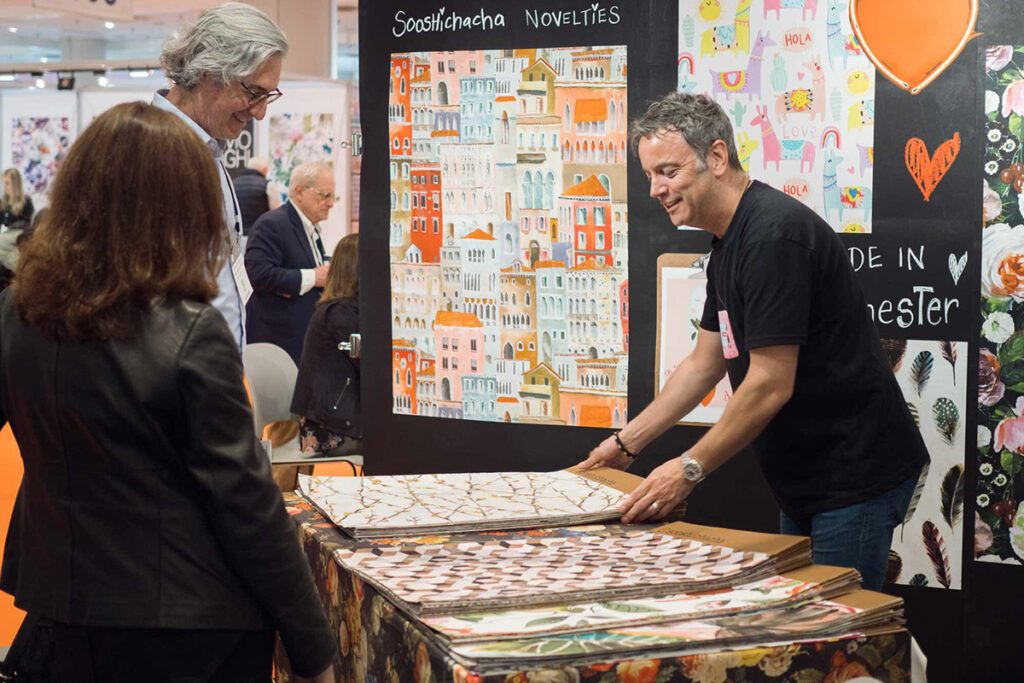 First Post-Pandemic Event Will Take Place at New Venue and is Expected to Meet Pent-Up Demand Among Artists and Buyers Across Numerous Industries
New York, NY (February 23, 2023) – Emerald Holding, Inc. today announced the return of SURTEX, the world's leading commercial art and surface design business-to-business (B2B) trade show, as a standalone event to take place at a new venue. Previously hosted together with Emerald's NY NOW, the largest gift and home wholesale trade show, the redesigned SURTEX event will take place May 9-10, 2023, at New York City's Metropolitan Pavilion in Manhattan's vibrant Chelsea neighborhood.
As the first post pandemic event, SURTEX has been enhanced with a dedicated focus in response to a high level of pent-up demand among both artists and buyers. The unique nature of the event, where artists are the exhibitors and businesses are the attendees, creates an engaging and collaborative environment for buyers and sellers of the latest commercial art and designs. This year's event is expected to attract more than 150 exhibitors representing the leading commercial artists and designers from around the world.
"During the pause since the last edition of SURTEX, Emerald carried out an industry wide evaluation and assessment on the needs of the commercial art and design marketplace," said Yma Sherry, VP, Emerald Xcelerator. "The overwhelming positive response from manufacturers, retailers, artists, agents and designers alike gave us the feedback to not only bring the show back, but to expand it as a standalone event in an inspiring location with more opportunities to connect both during and after the event."
As a global sourcing destination, SURTEX serves the commercial art and design needs of multiple industries, including home textiles, tabletop and housewares, paper products, bed & bath, lifestyle & decor, apparel, toys, beauty, stationery, weavers and rugs, greeting cards, and more. The show is heralded as the "go-to" event that brings owners and creators of surface designs together with manufacturers, retailers, marketers, brand licensing companies or any businesses that use surface design for product development.
"For more than 35 years, SURTEX has been an internationally recognized brand, and we are excited to uphold its reputation with this return to New York City," said Liz Hitchcock, SURTEX Brand Leader. "Our team is dedicated to exceeding all expectations as the best and most collaborative source for commercial art and design that is reflective of the world's most popular trends and best-selling products."
In addition to talented individual artists, SURTEX exhibitors include many prominent design studios and licensing companies. Firms such as Union Sq. Art Collective Studio, formerly known as Design Works International, Patternfield Software Pty Ltd., Wild Apple Graphics, Tana Bana Design Services, Pink Light Design, Yuno Design Studio and others are committed. Participants from past SURTEX editions are also eager for the show's return and the benefits that come from gathering in-person once again with fellow creatives and industry professionals.
"Over the years, SURTEX has been a wonderful opportunity for us to connect with manufacturers, licensees, art directors, and artists while promoting the work of our talented artists," said Stuart Horrex, co-founder of Sydney based ArtSHINE.com, a creative industries launch pad and accelerator working with clients and creatives from around the world. "We're looking forward to yet another great show."
SURTEX, along with its partners and exhibitors, also offers business solutions for both buyers and exhibitors that include license services, design technologies, and trend services. A dedicated buyer relations director serves as a show concierge to make it easy for key buyers to attend and meet the artists, agents and studios they are looking for. Art buyers and licensors from manufacturers and retailers such as Procter & Gamble, Bloomingdales, NBC Universal and Spirit Halloween are expected at the show.
Attendee registration is free of charge for trade professionals upon qualification of credentials. For more information, please visit www.surtex.com. To secure exhibit space at the upcoming show, contact awanda.booth@emeraldx.com.
About SURTEX
SURTEX is the leading tradeshow for the surface design and art sourcing industry. It brings together owners and creators of surface designs (artists, designers, studios, agents, licensors) with manufacturers, retailers, licensees and marketers that utilize original art and designs for product development needs. Since 1986, SURTEX has been the single event and global resource offering the full scope of art selling and licensing under one roof. The show connects up to 200 exhibitors featuring thousands of creative works by artists and designers from around the world, with hundreds of attendees from retail buyers and licensees to manufacturers and retailers. www.surtex.com.
About Emerald
Emerald's talented and experienced team grows our customers' businesses 365 days a year through connections, content, and commerce. We expand connections that drive new business opportunities, product discovery, and relationships with over 140 annual events, matchmaking, and lead-gen services. We create content to ensure that our customers are on the cutting edge of their industries and are continually developing their skills.  And we power commerce through efficient year-round buying and selling. We do all this by seamlessly integrating in-person and digital platforms and channels.  Emerald is immersed in the industries we serve and committed to supporting the communities in which we operate.  As true partners, we create experiences that inspire, amaze, and deliver breakthrough results. For more information, please visit www.emeraldx.com.
Media Contact:
Katie Genovese
katie.genovese@emeraldx.com