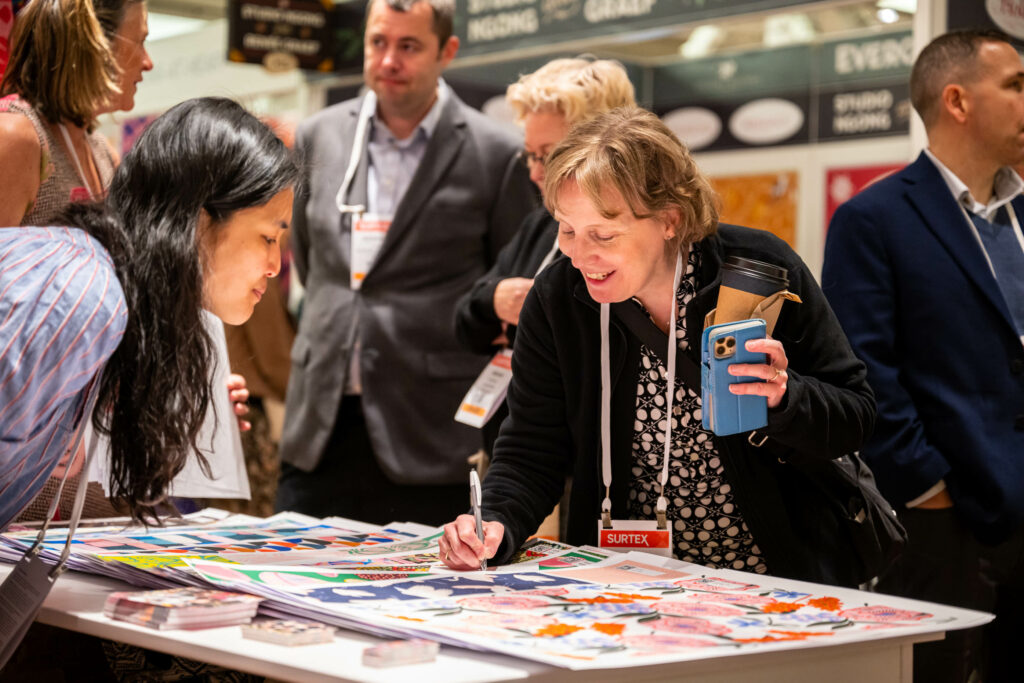 First Post-Pandemic Event Met Pent-Up Demand by Gathering More Than 1,200 Commercial Art and Design Professionals Across Numerous Industries
NEW YORK, NY (May 30, 2023) – SURTEX, the premier trade show for art licensing and surface design, made a successful comeback after a three-year hiatus by staging an eagerly anticipated event on May 9-10 at the Metropolitan Pavilion in New York City's Chelsea neighborhood. With over 1,200 industry professionals in attendance, SURTEX 2023 served as a platform for fostering connections and collaboration among artists, manufacturers, retailers, and brand licensing companies.
SURTEX 2023 showcased the creativity and talent of artists and agencies from around the globe, reaffirming its status as the go-to event for surface design. Participation included 130 exhibiting brands hailing from 12 countries, with renowned industry luminaries such as Pink Light Design, Union Sq. Art Design Studio, Diane Harrison, Shannon McNab, Brenda Manley, and Lauren Wan. The diverse range of styles on display, from abstracts to botanicals, catered to the varied needs across industries including stationery, home textiles, housewares, apparel, and more.
"We knew there was strong demand for the return of SURTEX and the response to this year's premiere event in our new location affirms just how important this trade show is to our industry," said Liz Hitchcock, SURTEX Brand Leader. "Based on the feedback we are receiving, we are eagerly looking forward to 2024 and believe that this year's level of enthusiasm and success will only continue to grow."
The event garnered praise from industry insiders, with both attendees and exhibitors expressing their satisfaction with the return of SURTEX as the industry's leading marketplace forum.
"We've met some really great artists and potentially made some valuable contacts at this year's event," said Rachel Carter with Sellers Publishing. "The opportunity to discover new artwork and design ideas for greeting cards was the highlight of our experience."
"There was a lot of creative and popular art here that provided the opportunity to make good connections to follow up with for future seasons," said Enjulee Ito, a member of the West Elm Kids team. "We will definitely be back next year."
Exhibitors also expressed their satisfaction with the return of SURTEX. Commenting on their experience connecting with buyers and manufacturers, exhibitors underscored the significance of  the show as a hub for the most unique, innovative and trending art.
"We're getting the right buyers and the right manufacturers all in one place," said Steven Heller of The Brand Liaison. "These are people who are serious buyers looking for unique art for everything from stationery to greeting cards and fabric wall art. They represent the types of quality companies that SURTEX has been known for over the years."
"Attendance was impressive and there were quite a few amazing artists here," said Charlise Bennett with Art.com. "I'm grateful to be here and am excited to see how it grows in the long run."
Anticipation is growing for next year's show scheduled to take place on May 16-17 in New York City once again. SURTEX 2024 promises new growth and innovation with plans to reintroduce an education program covering a broad range of topics spanning design trends, marketing, digital collectibles and AI integration.
To sign up for updates or inquire about exhibiting at SURTEX 2024, please visit www.surtex.com.
About SURTEX
SURTEX is the leading tradeshow for the surface design and art sourcing industry. It brings together owners and creators of surface designs (artists, designers, studios, agents, licensors) with manufacturers, retailers, licensees and marketers that utilize original art and designs for product development needs. Since 1986, SURTEX has been the single event and global resource offering the full scope of art selling and licensing under one roof. The show connects up to 200 exhibitors featuring thousands of creative works by artists and designers from around the world, with hundreds of attendees from retail buyers and licensees to manufacturers and retailers. www.surtex.com. 
About Emerald
Emerald's talented and experienced team grows our customers' businesses 365 days a year through connections, content, and commerce. We expand connections that drive new business opportunities, product discovery, and relationships with over 140 annual events, matchmaking, and lead-gen services. We create content to ensure that our customers are on the cutting edge of their industries and are continually developing their skills.  And we power commerce through efficient year-round buying and selling. We do all this by seamlessly integrating in-person and digital platforms and channels.  Emerald is immersed in the industries we serve and committed to supporting the communities in which we operate. As true partners, we create experiences that inspire, amaze, and deliver breakthrough results. For more information, please visit www.emeraldx.com.
Media Contact:
Katie Genovese
katie.genovese@emeraldx.com